"Praise the Lord!
For it is good to sing praises to our God;
For it is pleasant, and praise is beautiful." Psalm 147:1
"Let everything that has breath praise the Lord." Psalm 150:6
Last week we talked about the
heart–the seat of emotions
. We discussed how important the Breastplate of Righteousness is because the heart is one way the enemy attacks us.
You can read about the heart
,
HERE
.
Today, we're talking about another innermost part of our bodies that needs protected.
The lungs. The seat of praise.
The breastplate of a soldier would cover this area of the body as well. One dart to the lungs can result in the very least, a puncture. At the most–a full collapse.
Lungs are vital to our survival. They take in oxygen and distribute it to our body, releasing carbon dioxide. Inhale. Exhale. No lungs. No life.
Why would the enemy want to strike so forcefully at our lungs–seat of praise?
I guess we need to know why praise is so important. We know God tells us to praise Him. We know we ought to. He's good. He's done good things for us. He's the Most High. Creator. All good reasons.
He finds it beautiful, when done with purity. It's a wonderful fragrance to Him. But what does praise do for us? Like oxygen benefits every part of our body, so does praise.
Praise is our way of personally acknowledging God and Who He is.
"I will praise the Lord according to His righteousness,
And will sing praise to the name of the Lord Most High."
Psalm 7:17
"For God is the King of all the earth; Sing praises with understanding." Psalm 47:7
"To You, O my Strength, I will sing praises; For God is my defense, My God of mercy." Psalm 59:17
Praise puts God and us in the proper place.
Exalting Him
"Be exalted, O LORD, in Your own strength! We will sing and praise Your power." Psalm 21:13
"For the LORD is great and greatly to be praised; He is to be feared above all gods." Psalm 96:4
"Let them praise the name of the LORD, For His name alone is exalted; His glory is above the earth and heaven. " Psalm 148:13
Humbling us
"Oh, do not let the oppressed return ashamed! Let the poor and needy praise Your name." Psalm 74:21
So we, Your people and sheep of Your pasture, Will give You thanks forever; We will show forth Your praise to all generations." Psalm 79:13
"I will praise You, for I am fearfully and wonderfully made; Marvelous are Your works, And that my soul knows very well." Psalm 139:14
Praise brings peace.
"But I will hope continually, And will praise You yet more and more. " Psalm 71:14
"Why are you cast down, O my soul? And why are you disquieted within me? Hope in God, for I shall yet praise Him For the help of His countenance." Psalm 42:5
"To console those who mourn in Zion, To give them beauty for ashes, The oil of joy for mourning, The garment of praise for the spirit of heaviness; That they may be called trees of righteousness, The planting of the LORD, that He may be glorified." Isaiah 61:3

Praise creates an atmosphere of worship and change.
"But You are holy, Enthroned in the praises of Israel." Psalm 22:3
"He has put a new song in my mouth— Praise to our God; Many will see it and fear, And will trust in the LORD." Psalm 40:3
"Sing out the honor of His name; Make His praise glorious." Psalm 66:2
Have you ever felt at your lowest? Wit's end? I have. And I've found when I turn on worship music and I begin to open my mouth, let my lungs expand with praise something in the atmosphere changes. A holiness sweeps in, my words begin building an altar, and I know His Majesty abides within in.
My heart fills to the point of bursting, my eyes fill and overflow like a glorious fountain, my bones and muscle feel weak and I know it's because the power of the Most High is enveloping me…I have nowhere to go but to the floor. Flashes of wondrous things He's done for me flood my mind and gratefulness I hadn't felt before overwhelms me.
Sometimes sobs are enough, I know He's carefully bottling them. Sometimes I cry out and no words come, but He understands the language of the heart…He responds with lavish love. And I praise!
God, You are holy, majestic, wonderful in power and love. You love me like no one can, you're with me when I've been abandoned by everyone else. You hold my life, my thoughts, my heart. You are mighty and glorious. I don't deserve you.
A breakthrough happens within. I can't contain it. I don't want it to end. I might jump up and dance, alone in my living room, for my King. I may quietly lay out in the floor while I let His soothing balm cleanse me, cover me, love me.
And it's then, I know I've changed. If only a little. It's under the umbrella of praise, I know I can't. But He can.
And He will.
That's worth protecting.
Jesus has given us His righteousness in the form of a breastplate. To keep us strong. To keep us praising.
We can't afford for the enemy to cease our praise–to puncture or collapse a lung. It does so much for us. Let's fight back a little today.
What is one thing you want to give Him praise for today? Let's flood the comments with glorious praise, for praise is a beautiful thing.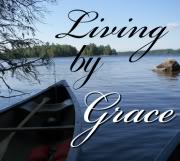 I'm hosting over at
Living By Grace
, the facebook online community and I'd love for you to pop over and engage in conversation! Lift a fellow sister up! 🙂