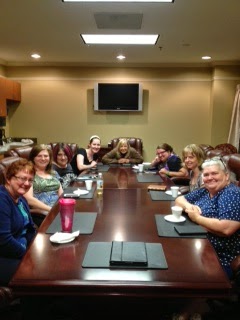 Yes, we're in the conference room, settled into plush chairs, a kitchenette off to the side where we can make fresh coffee and this night, we had warm Krispy Kreme donuts as we talked all things A Broken Kind of Beautiful, Katie Ganshert's newest release.
Rarely do we all agree that we loved the same book. But Tuesday night, we did. See all those smiling faces? We looked like that all night. And Katie can attest to it, because we Skyped with her! This makes our 3rd time to Skype and our 3rd book of Katie's to read.
Everyone feels as if you're just hanging out with a BFF while talking with Katie. She's so much fun.
Before we chatted with her, we went to her Book Club page fun and read the discussion questions, watched her inspiration YouTubes and took a peek behind the scenes.
So, here's a peek at the book!
Sometimes everything you ever learned about yourself is wrong

Fashion is a fickle industry, a frightening fact for twenty-four year old model Ivy Clark. Ten years in and she's learned a sacred truth—appearance is everything. Nobody cares about her broken past as long as she looks beautiful for the camera. This is the only life Ivy knows—so when it starts to unravel, she'll do anything to hold on. Even if that means moving to the quaint island town of Greenbrier, South Carolina, to be the new face of her stepmother's bridal wear line—an irony too rich for words, since Ivy is far from the pure bride in white.

If only her tenuous future didn't rest in the hands of Davis Knight, her mysterious new photographer. Not only did he walk away from the kind of success Ivy longs for to work maintenance at a local church, he treats her differently than any man ever has. Somehow, Davis sees through the façade she works so hard to maintain. He, along with a cast of other characters, challenges everything Ivy has come to believe about beauty and worth. Is it possible that God sees her—a woman stained and broken by the world—yet wants her still?
Out of 5 Stars: 4.5
I loved how Katie describes. It's so visual, setting you right there but it's not overly described. I skip overly described stuff.
I thought she had a lot of powerful phrases that were profound.
I didn't like Ivy at first, but I'm glad I stuck with it because it as it turned out, I loved the book.
I would have given it five stars instead of 4.5 because there were a lot of names to keep up with at the beginning and their relationships and I was a bit confused but then once I had it, I loved the book.
I identified most with Marilyn. She was a strong woman. I knew someone like her once.
I wanted Davis to save the day! I didn't see that coming! (I won't give spoilers, so read the book)
Didn't you just want to slap those men! The only good one was dead! LOL
Katie's writing is poetic and I love that! (We agreed!)
Thanks, Katie, for another wonderful read. Us Faith Readers strongly recommend this book!
How would you describe beauty? There's no wrong answer here!