"He has said in his heart, "I shall not be moved; I shall never be in adversity." Psalm 10:6
"But I have trusted in Your mercy; My heart shall rejoice in Your salvation." Psalm 13:5
"The troubles of my heart have enlarged; Bring me out of my distresses!" Psalm 25:17
"The LORD is near to those who have a broken heart…"Psalm 34:18
"When my heart is overwhelmed; Lead me to the rock that is higher than I." Psalm 61:2
"So I gave them over to their own stubborn heart, To walk in their own counsels." Psalm 81:12
"For I am poor and needy, And my heart is wounded within me." Psalm 109:22
"Perversity is in his heart, He devises evil continually, He sows discord." Proverbs 6:14
"Anxiety in the heart of man causes depression, But a good word makes it glad. " Proverbs 12:25
"Say to those who are fearful-hearted, "Be strong, do not fear!" Isaiah 35:4
Last week, I said we were going to pick apart the innermost parts to help us prepare for attacks from the enemy. You can read about it
HERE
.
Notice how many emotions come from our heart? These are just a few. Now, technically, in ancient times, people believed the seat of emotions were…wait for it…the kidneys. I have another lesson about that for another time.
But in today's world, the seat of emotions lie deep within our hearts. Look at how much we feel within our hearts? Ever heard any of these lines?
"Follow your heart." "Wear your heart on your sleeve." "Trust your heart."
Truth is, we can't afford to do any of these. Not without the Breastplate of Righteousness to protect our hearts. Without it, we're at risk. Roxette got it wrong with Listen to Your Heart. (I do like that song, though.)
Our hearts take us places we don't belong. Our hearts are shaky. And wearing our emotions for everyone to see is ridiculous and a fast way to become like lepers. (There's a difference between wearing your heart on your sleeve and being transparent. Yes, yes there is.)
What we feel is fickle. And the enemy knows it. That's why he consistently attacks our emotions. He's got it down to an art.
God made us to feel…to feel deeply, passionately, tenderly, generously. He made us sensitive. To Him. To His glory.
The enemy twists the emotions of the heart to veer us away from God and His will. Some of the above scriptures are ways he messes with our hearts. For today, I'm picking the top 2 ways he strikes our hearts. In my opinion, of course.
FEAR
Fear keeps us from moving forward. Paralyzes us into the mundane. Or even worse–into doing nothing. Jeremiah didn't want to prophesy because he was afraid he was too young. Moses was afraid to speak. God's people were afraid to cross into a glorious promise. Peter was afraid to stand up for Jesus at a crucial time.
And God told each one of them, I AM with you. That's enough. You can't. I can. God is always moving us forward. He has an agenda and it includes me. It includes you.
What do you fear? Failure? Success? Uncertainty? The unknown? A person, place, thing…a circumstance that could occur? Maybe it will. But, maybe it won't. Here's one: God? Growing closer to Him? Ever taken strides toward Him and everything seems to go to pot.
Do you fear the enemy more than you trust God?
"For God has not given us a spirit of fear, but of power and of love and of a sound mind." 2 Timothy 1:7
"And those who know Your name will put their trust in You; For You, LORD, have not forsaken those who seek You." Psalm 9:10
DOUBT
I did a series on Doubt using an acrostic. If you're plagued with it, you can read Part 1,
HERE
and Part 2
HERE
.
Doubt is really a lack of trust in God. I think everything that keeps us from moving forward can be peeled back layer by layer to one thing. Lack of trust. Don't believe me? What are you doubting, what are you afraid of? Peel it back asking why. Too afraid? Don't believe it? Our hearts can deceive us. That's why God tests them. Not for His sake. For ours.
The enemy throws fiery darts of doubt straight to our hearts. He wants us to doubt our identity in Christ, His love for us, doubt what God is asking us to do. He likes to use a double-headed arrow with this one: Fear/doubt.
Nothing puts you into cardiac arrest like an injection of fear or doubt.
If he can get us to doubt, he can put us at a standstill. Drop us like a fly. And chuckle while he does it. It's not even his most fiery dart. It doesn't take but a spark.
"And He (Jesus) said to them, "Why are you troubled? And why do doubts arise in your hearts?" Luke 24:38 Parentheses mine.
"Jesus said to him, "If you can believe, all things are possible to him who believes."" Mark 9:23
"God means what he says. What he says goes. His powerful Word is sharp as a surgeon's scalpel, cutting through everything, whether doubt or defense, laying us open to listen and obey." Hebrews 4:12-13 MSG
When you can't trust your emotions (heart) and your faith is shaky at best, you have to go with the facts. You can't argue with truth. And you can't afford to go a day without the Breastplate of Righteousness to protect your heart.
You have nothing to fear. Nothing to doubt.
Luke 24:38
What are other ways the enemy attacks the heart?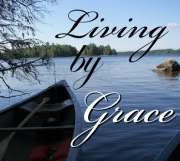 I'm hosting at Living By Grace, an online devotional community for women. Come by and chat or encourage someone who needs it!
**Next Wednesday, we'll talk about the lungs: the seat of praise