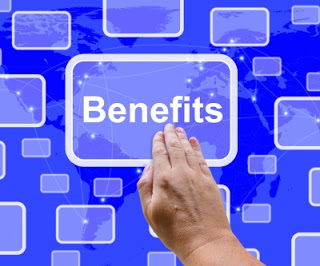 A friend WITH benefits. Kind of a no-brainer, right? No strings attached. Just a solid good time and you can walk away.
Negative.
I'm watching a show right now and the female character has decided she wants a friends with benefits relationship and the male has agreed. Guess what? It's caused all sorts of issues.
Because emotions get tangled up when intimacy is involved. I turned the show off and thought about this whole "friends with benefits" thing. A movie was made about it for crying out loud. Many movies actually, and it never stays that way "no strings attached." Oh, in a perfect movie world, they end up falling in love and then commit (which is backwards) but not before wave after wave of disasters happen. And sometimes it ends terribly.
But there is one no-brainer friend-with-benefits I'm all over, and no it doesn't involve anyone on the silver screen or TV.
It begins with wooing…then a commitment on my part (because He's already been committed) then intimacy comes.
I'm talking about Jesus. Yeah. We can be friends with benefits.
"A person who has friends may be harmed by them,
but there is a friend who sticks closer than a brother." Proverbs 18:24 NET
I'm all for a friend who won't harm me, betray me, leave me or treat me without dignity. Now, I know we're human and we're going to make mistakes even in friendship, but there is Someone we can be vulnerable around, Someone we can be fully "naked" or transparent, if you will, with. Someone who won't mishandle our hearts. A Friend who will stick closer than a brother. I'm all for that friend.
And we reap all the benefits which He is totally okay with!
"My soul, praise the Lord,and do not forget all His benefits. He forgives all your sin; He heals all your diseases." Psalm 103:2-3 HCSB
Two are right there in the verse. Here's just a few more:
Compassion that never fails
Faithfulness even when we aren't faithful
Hope
Grace
Provision
Strength
Unending and unconditional love
True intimacy
Commitment
Loyalty
Kindess
Discipline (yes, it's a benefit)
Purpose/Destiny
An advocate
Intercession on our behalf
Guidance
Wisdom
Joy
Peace
Comfort
Freedom
You can fool yourself all you want for temporary pleasure, but you can't be friends with benefits and truly be free to come and go. You can't have true intimacy without commitment and commitment comes first. It should anyway.
We can never create a list, a truthful list, of benefits, by the world's standard, for the whole Friends with Benefits idea. Maybe a few good times. Temporary pleasure. Sooner or later it will and does fall apart.
I'm all for something that's eternal. Truth is, I think we're all looking for an unconditional, eternal love. We'd be stupid not to want that! 🙂
So, Friend with Benefits? Yes, please! Give me Jesus.
If Jesus said, "I'm going to come down from heaven just for the day, and we can go wherever you want"…where would you go, and how would you spend your day with Him?"


I'll be back to regularly posting in the fall. Have you signed up for my newsletter? More Than Words will be hitting inboxes in just another week, FREE to subscribers only. So what are you waiting for?