Can I just say how super-sweet it is to have Carrie Schmidt (you may know her through Reading is My Superpower blog and Facebook page). Let me tell you a little about this precious lady.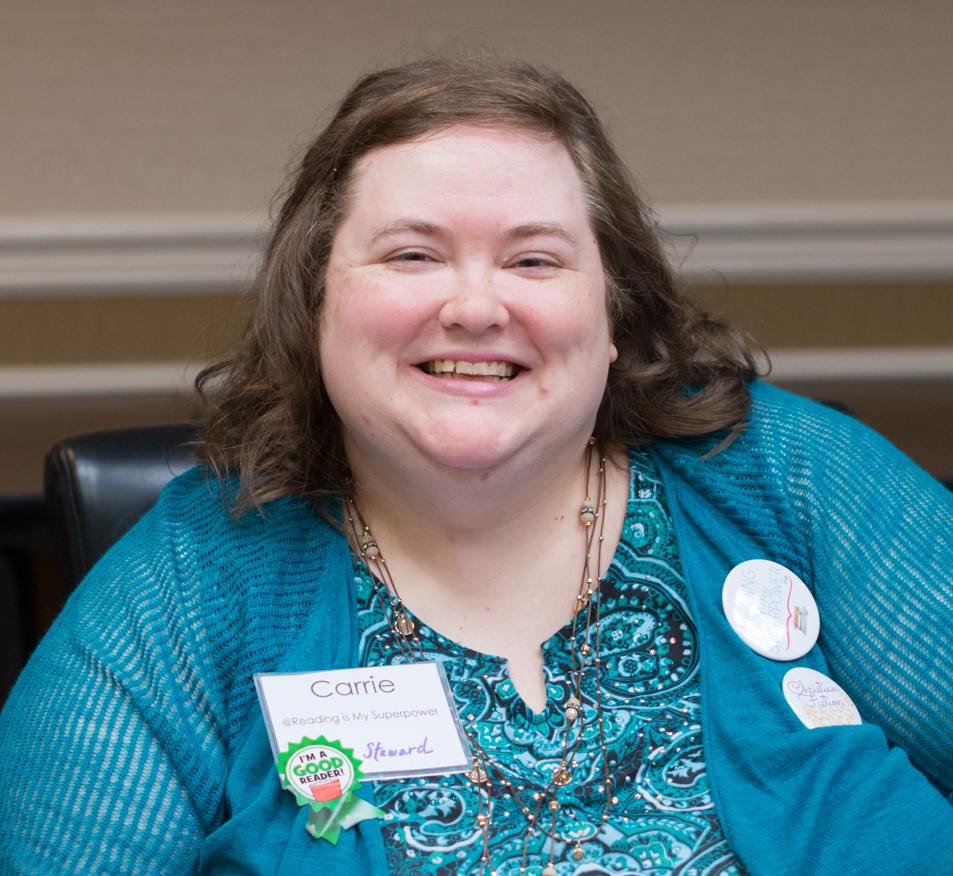 Carrie  is an avid reader, book reviewer, story addict, KissingBooks fan, book boyfriend collector, and cool aunt. She also loves Jesus and THE Story a whole lot. A reviewer for RT Book Reviews and a co-founder of the Christian Fiction Readers' Retreat, Carrie lives in Kentucky with her husband Eric and their quirky dog Zuzu. She can be found lurking at various blogs and websites (because she can't stop talking about books) but her main home is the blog she started in 2015 – ReadingIsMySuperPower.org.
She's been super precious to me and I'm glad she's here.  Waving at you, Carrie! I asked her some questions about romance, Valentine's Day, and of course books. You're going to love her answers and guess what? She's giving away a Romance Trope and Book Boyfriend candle to 2 lucky winners! (U.S. Only, the entry form will be below.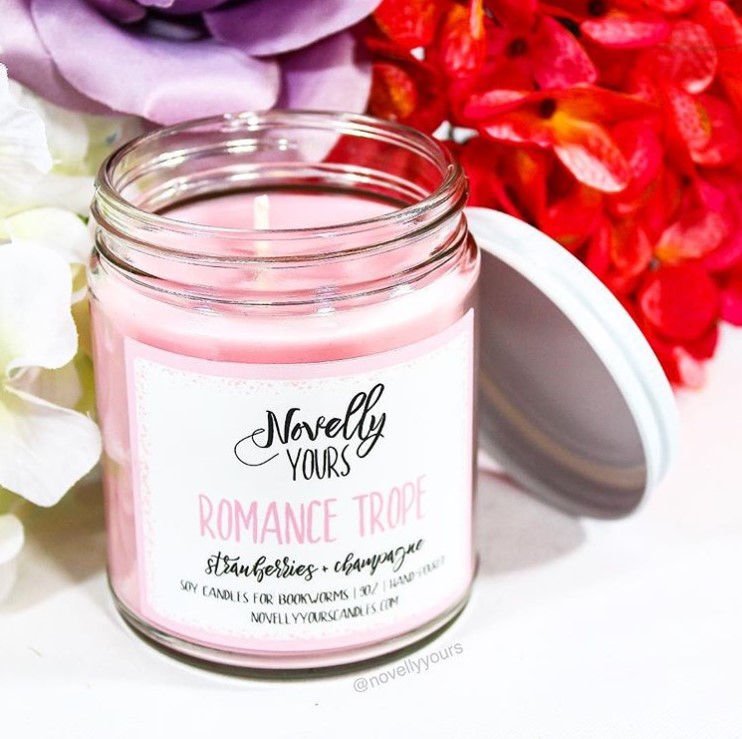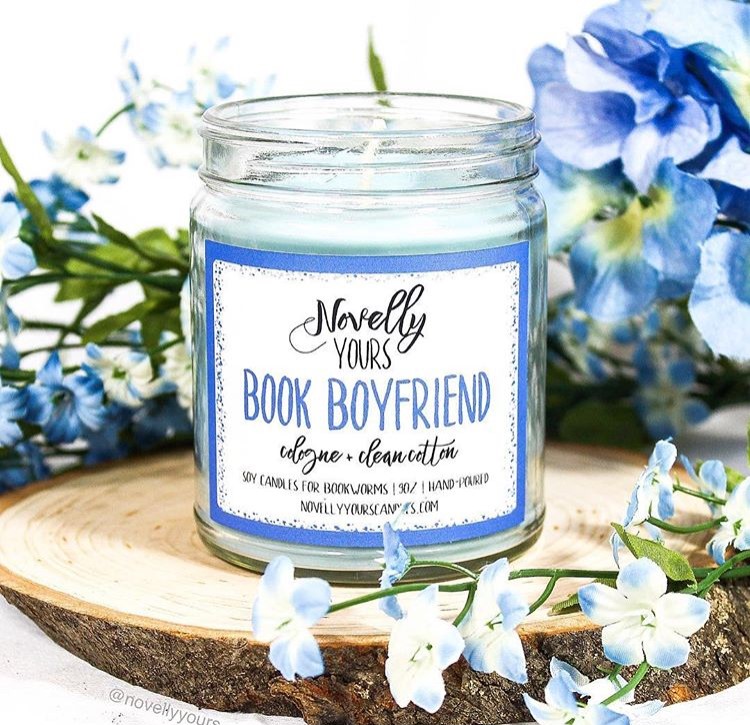 So, let's talk romance, books, and Valentine's Day.
How old were you when you were drawn into the romance genre? What book hooked you?
I was probably 11 or 12, something like that, when I discovered Love Comes Softly by Janette Oke. One read was all it took, and the rest is history 😊
What was it about that book that caused you to fall in love with the romance genre?
I have always loved romance – from the moment I first watched Prince Charming dance with Cinderella. But Love Comes Softly showed me that fictional romance could go beyond Disney's definition, that it could include real life & history & friendships. And that, in the process of telling me a great story about two people who fall in love, it could also help me fall in love with God a little more too.
Why do you think women love to read romance? Is this why you love romance? If not, tell us what it is you love about this genre?
I really think women love to read romance because it's part of that 'eternity' that God has placed in our hearts (Ecclesiastes 3:11). We crave these romance reads where some form of Prince Charming comes riding in on some form of a white horse, rescues us (I mean…the heroine), and we (I mean…they) lived happily ever after… because it's the story God's been telling from the beginning! We are the Bride of Christ & one day Jesus will come riding in on a literal white horse (see Revelation 19) and rescue us for the ultimate happily ever after (Revelation 21). So I think it's just part of our soul's DNA and, because we're still waiting for it to play out in reality, we gobble up these little reflections of it in the meantime. And all that to say (lol) – that's what I love about reading romance! It reminds me that I'm living in an even greater Story with an even better HEA that one day will actually come true. And… you know… the hot heroes and swoony kisses don't hurt either.
Oh my word! I agree too. It's why I love to write it. I have to share that Divine Romance with readers!! Love this so much. And uh, no they don't!  
Describe the perfect romantic hero? (Have you found this hero in a book or are you still waiting on him?)
The perfect romantic hero? Hmm.. that's a tough one. Because so much of it depends on the story itself, the reader's personal preference and the chemistry with the heroine. But for me? It never hurts if he resembles Henry Cavill (just sayin), if he speaks in some sort of accent, if he's flirty and/or smoldering, if falling in love takes him by surprise but hits him hard emotionally and (on that note) if he's not afraid to share emotion when appropriate. He needs to love more than himself, and he needs to be a protector at heart. And a good kisser. But … looking like Henry Cavill gets you a lot of grace on these other points 😉
Have I found him yet? I believe so. But currently it's a 5-way tie. And interestingly enough, three of them favor Henry Cavill a great deal. LOL! At least I'm consistent. (I remember one of your heroes looking suspiciously like Henry too 😉 ) (Jess here: Yes, I did use Henry but not for Holt! For Griffin Noble, but you see how you want. I don't mind!) Anyway, I had a book boyfriends shirt made with five of my very faves, and the guys include:
#myJames (aka James MacDonald from Carla Laureano's Five Days in Skye)
Ty Porter (from Becky Wade's Meant to Be Mine)
Charlie Lionheart (from Joanne Bischof's The Lady & The Lionheart)
Vance Everstone (from Dawn Crandall's Everstone Chronicles)
Wes Harrison (from Pepper Basham's Just the Way You Are)
I adored Charlie Lionheart and Ty Porter. I also need to step up my game and read and these other books! Do you have a favorite romance sub genre? Why is it your favorite?
I love romantic suspense. Because as long as I've loved romance, I've also loved mysteries. Nancy Drew is my home girl. (Do people say that anymore? Lol) But my favorite Nancy Drew stories were the ones when she teamed up with the Hardy Boys because, let's face it, Frank Hardy made a better book boyfriend than Ned Nickerson. (sorry Ned) Getting to read a romantic suspense ties both of these loves together for me, plus the tension created from the suspense adds to the romantical tension which is another win-win.
Yes! I mean how can this rom/suspense writer who always throws in mystery not love that answer. Have you ever thought about writing your own romance novel? Why or why not?
Thought about it? Yes. Will I ever actually write one? Probably not. Mainly because a) I don't think I have that specific kind of talent and b) it would cut into my reading time too much lol.
What is one romance novel that has stuck with you over many years? Why do you think that is?
Newlywed Games by Mary Davis. I don't exactly know why it's stuck with me for so long but I think one of the reasons is because it was really the first Christian fiction I read that showcased the kind of romantic tension that makes you forget to breathe. The chemistry between Bruce and Meghann is AMAZING and electric and oh-so-swoony. Also I think this is the book that started my love of the 'fake marriage' trope, which is really a derivative of the marriage-of-convenience story that Love Comes Softly spearheaded. It all comes full circle 😊
Okay, I gotta read this book! Wow! Do you celebrate Valentine's Day? Some people don't want to be told to do something special on one day but feel romance and kind gestures should be done all throughout the year, which I agree, but I love Valentine's Day. Might be because it's the anniversary of the first date with my husband (24 years ago!) What's your take on this day?
As a kid, I loved Valentine's Day! My parents made it so special for us. From the special meal my mom would make (complete with hearts cut out of just about any food she could, even the butter) to the scavenger hunts that would send us scurrying all over the house to find the next clue and – eventually – our candy gifts. As an adult, Valentine's Day hasn't been nearly that much fun haha! But it will always be special to me because in my senior of college this guy (who happened to be one of my best friends) decided to boycott Valentine's Day by going to see You've Got Mail together (yeah, just about everyone saw through that except us). A year and a half later, we got married ❤
I love this! How fun! Have you read many romance novels set around Valentine's Day? Which ones do you recommend? (I read Paper Hearts by Courtney Walsh and took that idea last year, stringing paper hearts all over for my man to read. He was so surprised and saved them!)
Ok, now you're really making me think!! LOL. Honestly?!? I know that there are some, but I haven't read many. I'm not sure why. Totally seems like my thing. I definitely recommend Paper Hearts by Courtney Walsh and The Cupcake Dilemma by Jennifer Rodewald. Other books that people have recommended to me (but I haven't read yet) are Once Upon a Winter's Heart by Melody Carlson, Secretly Yours by Valerie Comer and Operation Valentine by Elizabeth Maddrey.
If your special someone gave you a gift for Valentine's Day that was solely focused on a book/reading them, what would that gift (day or weekend!) look like?
Ooooo what a fun question! I have always loved the idea of this bookstore date from The Dating Divas! And I really really want one of these adorable custom bookish blankets from Sweet Sequels on Etsy!
I love the Dating Divas site! I just printed some stuff from there for this lovely week! I'm spoiling my man because he ALWAYS spoils me!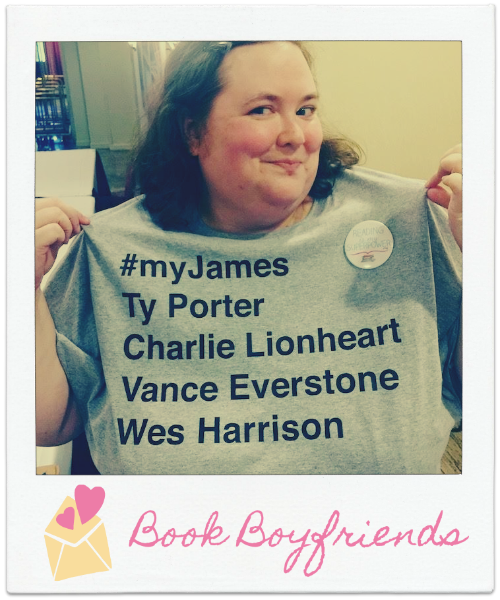 Thank you so much for being here today, Carrie! It's been fun. Readers and writers, you can also connect with Carrie on Facebook @ meezcarriereads and everywhere else social at @meezcarrie.
Enter for a chance to win 1 of 2 Novelly Yours candles! 
SaveSave