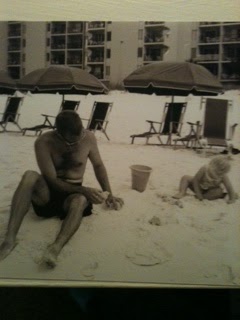 DH playing in the sand
with DD 10 years ago
…notice how she copies
his stance and moves?
"Therefore be imitators of God as dear children…" Ephesians 5:1
If you have children, you've noticed them imitating you. This is where half of you smile and half of you groan. Jaws is one of my favorite movies. I love the scene where the little boy copies Brody (his father and really…do I need these () because everyone should know who Brody is b/c surely everyone has seen Jaws. Tell me you have. Please. For the love!) It's a precious scene. Child mimicking father.
So what does this have to do with the Breastplate of Righteousness? I'm glad you asked.
"God looked and saw evil looming on the horizon—so much evil and no sign of Justice.
He couldn't believe what he saw: not a soul around to correct this awful situation.
So he did it himself, took on the work of Salvation, fueled by his own Righteousness.
He dressed in Righteousness, put it on like a suit of armor…" Isaiah 59:15-19 MSG
If God Himself dressed in righteousness, like armor, and then in Ephesians 6:14, tells us through Paul, to put on the Breastplate of Righteousness, and we know from Ephesians 5:1 to imitate…then I think it would be wise to figure out what it means and do it. It's part of our Strong Suit.
I'm still working through
Donna Pyle's, Your Strong Suit, Bible study
. This past week she talked about the Breastplate of Righteousness. She says, "Righteousness (Greek, dikaiosune) refers to the character or quality of being right or just..with Christ giving us His righteousness, our actions (as seen through our values of integrity, virtue, and uprightness) reflect God's righteousness dwelling in us."
"not a soul around to correct this awful situation." "So He did it Himself."
The breastplate is a piece of armor that, as Donna says, "protects neck to navel".
I read about several different kinds of Roman armor, all of which could have been worn during the time Paul was in prison–when he wrote to the Ephesians, using the armor of a Roman soldier as an example. I sure love analogies!
Listen to this:
The Lorica Squamata, which translates into "scale armor" was worn early on by important Roman soldiers. It was worn with a belt to help take off the heaviness of the metal breastplate.
Isn't that what the belt of truth does for us? When we feel we have to be righteous on our own. Can we do enough good things? Act right all the time to earn God's graces…the belt of truth takes that heaviness from our shoulders, revealing it is Christ in us that makes us righteous. There is nothing we can do on our own. That's why the belt and the breastplate go hand in hand.
The belt of truth lifts the heaviness of self-righteousness. We wear Christ's righteousness to protect our innermost parts. So what are those innermost parts that need protecting from the fiery darts of the enemy?
The Heart
The Lungs
The Stomach
What do they represent spiritually?
The Seat of emotions
The Seat of praise
The seat of appetites
Next Wednesday we'll begin picking apart each innermost part and talking about ways the unseen enemy tries to take us out by destroying them. If we are aware of his tactics, we can see him coming. We can plan for attacks. We can defend ourselves. With the Breastplate of Righteousness. Join me next week when we talk about the Heart–the seat of emotions.
Today I'm hosting at
Living By Grace
and I'd love for you to stop by and "like" the page and share some encouragement or join in the discussion with a community of believers who have the same goal as you do. To live a life pleasing to God.
Name one person in the Bible you would like to do an in-depth study on. If you use Jesus/God, be specific. Jesus and His compassion, as Teacher…God as the Father/Healer/Judge…etc.