The world did what it thought was right in its own eyes. Brothers fought brothers, innocent lives were slaughtered and given to demons. Orphans' bellies swelled with hunger, but blind eyes were turned. Widows starved in their homes while young women took men who did not belong to them to their bed.
Greed, lust, hunger for power dripped like honey from the lips of men. Lies and deceit fueled the people. Dead men living in desolate places, groping as if they had no eyes to see light–only walking in darkness.
Those who attempted to depart from the great evil became prey.
Truth failed.
Justice and righteousness disappeared like vapor.
No one to help the people, to intercede for them. And it displeased the Lord. Jealousy for His beloved moved Him to action.
He would bring salvation by His own arm.
His put on righteousness as a breastplate, and a helmet of salvation on His head; He put on the garments of vengeance for clothing, and was clad with zeal as a cloak.
Bringing fury to His enemies. To redeem. To send the enemy to flight when he comes in like a flood.
To make a covenant. (prophesy from Isaiah 59)
He came and was rejected by His own people, who mocked His helmet of salvation by crowning Him with thorns, ignoring His cloak of vengeance that He wanted to use to avenge them and covering him with cloak of purple to demean Him. They stripped His torso naked; they did not care He came in righteousness.
Yet compassion and joy pressed Him on and He allowed them to take His life. When His blood and water flowed, they were freed. All were freed.
Truth would not fail again. Law was banished.
Under a new covenant. In blood. At a cross.
It's no secret that when Paul watched the soldiers guarding him, he remembered the prophecy in Isaiah. He would know the scriptures well. He may have sat against the cold, dirty walls of the prison and studied those men as the Spirit of God showed Him a picture to use in teaching us. Today.
Put on the whole armor of God. Except there is no cloak in the armor of God. Because vengeance belongs to the Lord.
"And take the helmet of salvation, and the sword of the spirit…" Ephesians 6:17
He wore them first. He's giving them to us. A gift to help us. The world hasn't changed. It's still a place where man does right in his own eyes, where greed and lust propel men to do evil.
But we are not under the law. We have the Spirit of God in us to guide us. We have nothing to fear. And the enemy knows this. He's still coughing up dust from having his face shoved in the ground when Jesus won the battle.
The mind is an amazing creation. What it can do is a miracle. That's why it's so important to guard it. The enemy loves to mess with it. One stray thought can become a fixation, messing with our emotions–our innermost parts.
Thoughts become actions.
That's why Paul says whatever is just, pure, lovely, of good report, anything praiseworthy or of virtue–think on these things. Philippians 4:6-8
Paul not only tells us to take the helmet of salvation, a free gift giving you liberty, but to also take the sword of the spirit.
The Bible–the Word.  When the enemy comes in like a flood (from the prophecy in Isaiah) the Spirit of God sets Him to flight (raises a standard–that's what the word standard means). Resist the devil and he will flee.
When he says, "You're alone." The sword slashes at the enemy with "My God never forsakes me, lo He is with me until the ends of the earth." Matthew 28:20
"You're weak." Raise the sword and cut his throat. "His grace is sufficient for me." 2 Corinthians 12:9
"Your dreams are ridiculous. Unattainable." Cut his tongue out with, "I can do all things through Christ who strengthens me." Philippians 4:13
When the enemy tempted Jesus in the desert for 40 days, Jesus fought with the Word. With the sword.
I have a hard time with numbers. Phone numbers, SS#, dates. It's ridiculous and as I was trying to memorize scripture, I became frustrated because I couldn't remember the references.
I sat outside on my patio morning in tears and said something like, "How can I fight when I can't even learn!" I will never forget what happened next.
The wind picked up, the leaves rustled and the Lord said to me (not audible but they might as well have been), "When I fought, I never once used a reference. I said, 'It is written…' You know the words."
My heart sped up, my eyes swam with tears as Jesus unlocked my fears and doubt and encouraged me.
This wasn't license not to work hard and learn the references. We should and I have. We may need to give them to another person at some point.
Sometimes, I forget, but I know when the enemy attacks my mind, the Spirit brings the Word to my mind. God says….
You see, I scared him. I was learning how to fight. Memorizing scripture and meditating on it. Letting it become real in my life, not just rehearsed words to a play.
The only way to stop me was to make me believe if I didn't know the numbers/references, it wasn't valid. A forfeit in the fight.
Wrong.
Protect the mind. We're saved–by grace. Under the blood. The past is drenched in it. Our future swims in it. We have the promise of forever with the Lover of our soul.
Pick up the sword and use it. Remember to practice with it. Take it out daily and use it. Get the feel of it in your hands. Improve your craft of wielding it. When war comes, you want to know how to use your only weapon. It's the only thing that will wound the enemy. Everything else is for protecting you.
The sword puts the enemy to flight.
How are you at memorizing scripture? Do you work on learning new passages daily or could you stand to take out the sword and practice with it?
Practice makes progress!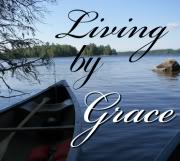 I'm over at
LivingBy Grace
today, on facebook! Come by and share with over 200 women your favorite scripture!