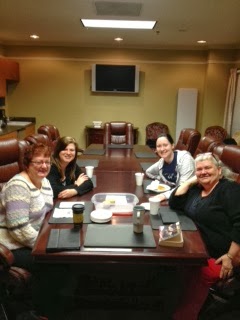 It's been a real treat having Pat here with us all week! If you missed out on Would You Rather or her No-Brainer devotion you can read them HERE and HERE!
Over delicious cranberry-orange muffins and coffee, we discussed Shadows of the Past, a romantic suspense by Patricia Bradley and then we had the opportunity to Skype with her. If you don't know Pat, we'll tell you she's a hoot! So much fun to chat with.
Now on to our review. Here are few things that were said.
"She grabbed me on the first page."
"She knows how to get your attention quick."
"I thought the dreams Taylor had were very realistic to what dreams are like."
"Toward the end, I wasn't sure if who I thought the villain was, really was. That was a fun twist."
"Where's Robin?"
"I'll be reading all her books."
GROUP RATING: 1-5 STARS
4.5
Here's a sneak peek at Pat's debut novel. Grab it up! You won't be sorry!
Psychology
professor and criminal profiler Taylor Martin prides herself on being able to
solve any crime, except the one she wants most desperately to solve–the
disappearance of her father twenty years ago. When she finally has a lead on
his whereabouts, Taylor returns home to Logan Point, Mississippi, to
investigate. But as she is stalking the truth about the past, someone is
stalking her.
Nick
Sinclair pens mystery novels for a living, but the biggest mystery to him is
how he can ever get over the death of his wife–a tragedy he believes he could
have prevented. With his estranged brother the only family he has left, Nick
sets out to find him. But when he crosses paths with Taylor, all he seems to
find is trouble.
Join the
chase as this determined duo search the murky shadows of the past for the keys
to unlocking the present and moving into a future filled with new hope and
love. Readers will be swept into the sultry South in this debut novel from a
promising and already award-winning writer.