Everyone, welcome back Melissa Tagg! And Happy Halloween tomorrow–or Happy Fall if you don't celebrate it! Take it away, Melissa!
I've written about the main
characters in my debut novel, Made to Last, quite a few times around the
blogosphere. Miranda and Matthew—I sorta love them. Okay, I really love them. And Blake, too. I love
him so much I gave him his own book, which comes out next spring.
But I haven't written as often—or
possibly at all—about one of the book's side characters: A guy named Jase.
Jase was one of those subplot guys
who sneaks up on you. Writers know what I'm talking about. We may not actually
all that fully plan out the character's role in the story, but once he waltzes
his way onto the page, we discover he has a history and maybe even a little
story arc all his own.
Thus, Jase.
Jase is the brother of my hero,
Matthew. Turns out he went down to Texas a few years ago, acted as visiting art
professor at a college and came home a semester later with a wife and
stepdaughter. The stepdaughter, Cee, is deaf—a result of meningitis—and is part
of my hero's motivation. See, a whole backstory that just sort of ambled its
way into existence as I wrote. (AH, I love being a writer!)
Anyway, there comes a point about
two-thirds of the way through the book when Matthew finds out Jase is facing
his own sort of mini-crisis. The photo gallery he opened in Minneapolis is
going under. Financially, it's not supporting his soon-to-expand family
anymore. So he's closing up shop and going back to teaching. And as he tells
Matthew about his family's upcoming changes, Matthew starts thinking…about how
Jase was letting go of one dream, his gallery, in order to support his new
dream, his family. The mental journey had all sorts of implications in
Matthew's own life.
I never really expected that scene
in the book to affect Matthew—or frankly, me—so much. But it did. Because
suddenly I was thinking back on my own life. On dreams and how they've changed
and how they've stayed the same. On how sometimes we have to let go of an old
dream in order to make room for a new one.
And here's the point in this post
when we take a little back step to one of the more un-fun seasons in Melissa's
life:
I had this dream once I was pretty
certain about. Things were working out. It seemed right. That is, until the
year everything changed. Oh. My. Word. I was not a fun person to be around that
year. That dream was slowly ripped away, and life became an emotional roller
coaster that I pretty much wailed my way through. I put on a good face now and
then, but the people who knew me best saw through pretend happy Melissa.
Honestly, I'm a little amazed they stuck by me through my pouting!
But I will never forget the day I
decided to let go. Finally. Completely. No more white-knuckled grasp on a thing
I knew God was saying "no" to. And here's the verse that buoyed my hope that
day:
"See, I am doing a new thing! Now it
springs up; do you not perceive it? I am making a way in the wilderness and
streams in the wasteland." –Isaiah 43:19
Doesn't that verse just set your
mind spinning with awesome could-bes and might-bes? I love it. But it's even
better when you go back and read it in context. I love how The Message
paraphrase puts it:
This is
what God says,
    the God who builds a
road right through the ocean,
    who carves a path
through pounding waves,
The God who summons horses and chariots and
armies—
    they lie down and then
can't get up;
    they're snuffed out like
so many candles:
"Forget about what's happened;
    don't keep going over
old history.
Be alert, be present. I'm about to do something
brand-new.
    It's bursting out! Don't
you see it?
There it is! I'm making a road through the
desert,
    rivers in the badlands.
Wild animals will say 'Thank you!'
    —the coyotes and the
buzzards—
Because I provided water in the desert,
    rivers through the
sun-baked earth,
Drinking water for the people I chose,
    the people I made
especially for myself,
    a people custom-made to
praise me.
So. Good. But did you catch that
part about forgetting what's happened, not going over old history? I don't know
that we actually forget-forget. But
we do choose where to focus our thoughts. We choose whether to be present
today, focused on whatever new dream has replaced the old one. Or maybe we
don't know what our new dream is yet, but just thinking about what it might
be…that's fun. That's the stuff of hope and excitement and newness.
And the crazily cool thing is, when
we really believe God is at work,
constantly doing something new in our lives, always with a plan and a purpose,
it gets a little easier to let go. A little easier to move on. And a little
easier to trust that it's going to be worth it.
Have
you ever had to let go of a dream? How did you move forward? Do you have a new
dream now?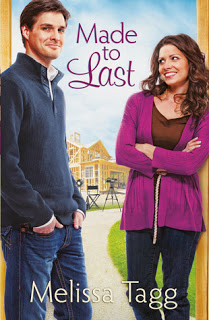 Here's what Made to Last is all about!
Miranda Woodruff has it all. At least, that's how it
looks when she's starring in her homebuilding television show, From the
Ground Up. So when her network begins to talk about making cuts, she'll do
anything to boost ratings and save her show–even if it means pretending to be
married to a man who's definitely not the fiance who ran out on her three years
ago.
When a handsome reporter starts shadowing Miranda's every move, all his digging
into her personal life brings him a little too close to the truth–and to her.
Can the girl whose entire identity is wrapped up in her on-screen persona
finally find the nerve to set the record straight? And if she does, will the
life she's built come crashing down just as she's found a love to last?