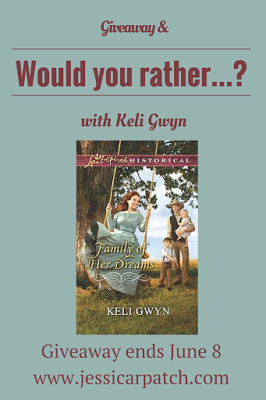 I'm excited to host one
of the sweetest women on the planet today! The kind and lovely Keli Gwyn is in
the house and we're playing a few rounds of WYR with her and her characters in
her newest novel through Love Inspired Historical. Let's get right to it. Also,
you can enter to win a copy of Family of Her Dreams (US residents only). See how below!
Would you rather…
…fly or read minds?
Spencer: Fly. I'd like
to get a bird's eye view of my ranch.
Tess: I'd love to read
minds, especially Spencer's. I'm eager to find out what goes on in his head
because very little of it comes out of his mouth.
Keli: I'm with Tess. I'd
love to read minds. Learning how different people think would make it easier to
get into my characters' heads.
…fall in love and have your heart broken or never fall in
love?
Spencer: I did fall in
love. My heart was broken when my wife was taken from me, but I kept going. I
had to. I have two small children to care for, but now I have the help of my
headstrong housekeeper, Tess. She's brought light and laughter back into my
life.
Tess: Having been raised
in an orphanage, I long to love and be loved. I dream of the day I have a
husband and children of my own. Even though I could get hurt in the process,
the rewards far outweigh the risks.
Keli: I'm all about love
and romance. Loss and broken relationships are an inevitable part of life, but
the pain eases over time, enabling a person to experience love anew.
…be wealthy and successful but never find love or find love
and live meagerly?
Spencer: I'd choose love
and a modest life. The pursuit of wealth robbed my father of happiness, and I
want no part of that.
Tess: Love is essential.
With it, one is rich even if she has little.
Keli: What a timely
question. Gwynly retired just last week. As a teacher's family, we've lived
modestly, but we'll be cutting down even more now. I'm up for that. My guy and
I have a wonderful marriage, and I'm dearly loved. Talk about being blessed.
That's me.
Keli, tell us what inspired this story?
I love California's Gold
Country where I live. There's a wealth of history here, which fascinates me.
When I learned that the sleepy Gold Rush-era town of Shingle Springs nearby was
once home to the busiest rail station in the state, my curiosity was piqued. I
imagined what life would have been like for the stationmaster, and Spencer introduced
himself. A grieving widower, he needed help. Who better than Tess, a confident,
outspoken woman who has a heart overflowing with love she's eager to shower on
two motherless children—and their handsome father?
What are you working on currently?
I'm writing a story set
in my historic hometown of Placerville. Once again I'm working in local
history, which I love to do. I've fallen hard for my hero and heroine. Flynt
and Jessie are bright, determined people eager to overcome their shameful
pasts. When they're forced to spend time together both on and off the job,
secrets come to light. Secrets that could destroy everything.
Thanks for hosting me,
Jess. It's great to be here. I have a question for your blog's readers.
Since
I'm learning to live on less, what is one money-saving tip you'd recommend?
(Jess here) I'll chime
in with my answer. I've discovered that if I create the weekly menu, then go
through the pantry to see what I've got and only add to the grocery list what I
need, I save money. I also include a snack or two for the kids but they know
when it runs out, it's out until I hit the grocery store the following week!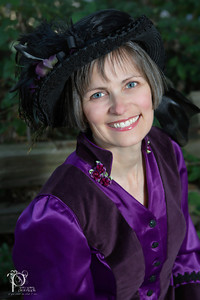 Award-winning author Keli Gwyn, a native Californian,
transports readers to the early days of the Golden State. She and her husband
live in the heart of California's Gold Country. Her favorite places to visit
are her fictional worlds, historical museums and other Gold Rush-era towns.
Keli loves hearing from readers and invites you to visit her Victorian-style
cyber home at www.keligwyn.com, where you'll find her contact information.
Here's a look at Keli's
novel
Family of Her Dreams
:
A Family to
Cherish
Headstrong Tess Grimsby loves her new job caring for the
children of a recently widowed man. But she never imagined that she'd fall for
her handsome employer. Yet Spencer Abbott is as caring as he is attractive, and
Tess can't help but feel for him and his family. Though, for the sake of her
job, she'll keep any emotions about her boss to herself.
Between his stationmaster responsibilities in a gold-rush
town and trying to put his family back together, Spencer has his hands full. He
soon finds his new hire's kind personality warming his frosty exterior. But
could he ever admit to seeing her as more than just an employee?
Copyright © 2015 by Harlequin
Enterprises Limited
Cover and cover copy text used by arrangement with Harlequin Enterprises
Limited.
® and ™ are trademarks owned by Harlequin Enterprises Limited
or its affiliated companies, used under license.