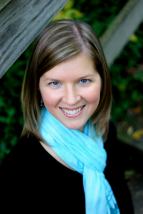 When I see pictures of Sarah Forgrave, I think sophisticated, savvy, and fun. Sarah and I are agency mates and while I haven't had a chance to meet her in person, I'm looking forward for that day. I like her blog because I get to meet new people, smile when she talks about being a mom to young kiddos, and she gives great health tips, that I never take, but should. 🙂
Sarah writes contemporary romance for the inspirational market and is represented by Mary Keeley of the
Books & Such LiteraryAgency
. She's a member of American Christian Fiction Writers and was a runner-up in the 2010 Genesis contest. She's also a regular contributor to
The Writers Alley
and the webzine
Ungrind
, and maintains a blog on
her website
, where she hosts monthly giveaways. When she's not in front of the computer writing, she enjoys being a self-proclaimed health and fitness nut and stays busy chasing the bundles of energy that live in her house–her husband and her two young children.
JP: You're a busy woman when it comes to the writing world. What one thing other than writing are you passionate about?
SF:I have a really strong passion for health and fitness and viewing our bodies as the temples that they are. I struggled with extra weight after my pregnancies and going through medical struggles. Regaining my health has been such a blessing in giving me more energy and strength to be the wife and mother God wants me to be. It really is possible for everyone to achieve! I believe so strongly in it that now I'm studying to become a certified fitness instructor. (Now I just have to pass the exam. Yikes!)
JP: Congrats! I'm sure you'll pass the test. You're very knowledgeable! And since you're so healthy, you won't need to worry about getting a bug to keep you from the test…speaking of bugs, when did you get the writer's bug?
SF: How much time do you have? J I've had an unconventional path to writing, for sure. I think I've always had a writer's gene tucked away somewhere, but in college I chose a more practical career choice and became an accountant. It wasn't until after the birth of my son when I faced difficult medical issues that God got my attention. It took a year and a half of the medical journey before I finally heard His voice, but it was so loud and clear, I couldn't have missed it!
JP: I admit, I'm jealous of those who can write and add. Numbers hate me. They really do. I think you just proved God speaks to us in difficult times and it's always sweet and wonderful promises! Tell us one favorite line in one of your WIP's and tell us why?
SF: Hmm, I'd have to go with the opening line of my second book. "There comes a time in every woman's life when her heel breaks and her backside meets concrete." It took me forever to come up with a line that really grabbed me, and I remember it popping in my head while I was watching a movie. (Evidence that time spent in front of the TV is not a waste for writers. J)
JP: Honey, you ain't just whistlin Dixie! Some of my best ideas come from something I see on TV! And that line? Um, fabulous! So perfect. I'd definitely keep reading, especially if the book came with a trip to the a private island. Ah, sigh. Name one place you'd like to go that you've never been and why?
SF: Oh goodness, it's impossible for me to narrow this down. My bucket list includes wanting to visit all 7 continents, so can I choose the 5 that I haven't visited yet? I don't care what order…I just want to go. J
JP: What else is on that bucket list? I love reading them! If you were on one of those continents, what genre do you like to read? Do you write that genre? (Cause you'd also need your laptop while you're there!)
SF: Mostly contemporary romance, which I also happen to write. I also love a good historical romance or women's fiction that really brings the characters to life.
JP: Hey, we read some of the same things. I knew I liked you for more than your good looks! Okay, time to see the darker side of Sarah. If you could pick one villain from a book to be for a day, who would you choose?
SF: Hmm, that's a tough one. I guess I'd choose the mean girl from Anne of Green Gables (I forget her name…Was it Josie?), simply because I'd get to visit Avonlea and meet Anne.
JP: I confess, I don't think I've read Anne of Green Gables. Maybe one of them. It was a cartoon though, right? I'm almost certain, I saw a movie or show about it. But enough of how much TV I watch. It's cold outside and Old Man Winter is beating us with his cane, what one thing do you love most about this season? What one thing do you like least about this season?
SF:I love watching the snowflakes fall, especially when I'm tucked away in my house with nowhere to go. The thing I like least? Ice storms and trying to chink off the layers from my car when I have to drive somewhere.
JP: Snow is pretty if I can stay behind the glass to watch it. The only thing pretty about ice storms is the trees. Like glass! Okay, I'm getting chills, let's move on. Do you hunt down pictures of your characters from the internet? Care to share what your hero and heroine look like with us from your current WIP?
SF:I don't usually hunt down pictures because I have such a vivid picture in my head…It's hard to match it exactly. I did stumble across a picture of one of my heroes in a catalog. It's an exact replica, including the dog. J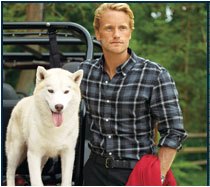 JP: I really ought to read catalogs more often! What would your characters say about you if they had the chance?
SF:Well, the characters from the book I'm editing would probably say, "When will you finally leave us alone?" LOL. I've been editing this thing for what feels like forever, so yeah, they're probably ready for a break from me.
JP: Hilarious! I feel your editing pain. Really. I do. Can you give us a peek at your WIP?
SF:I would love to, but I'm still polishing this stuff for my agent, so I should probably hold off. I will say that it takes a unique twist on contemporary romance since it's set in an Amish-centric town (but it's not straightforward Amish fiction by any stretch). I grew up around the Amish, so I thought it'd be fun to explore the setting through the eyes of someone like me who interacted with them every day.
JP: Very interesting! I'm looking forward to reading it. Thanks so much for coming Sarah! I've had a blast. Before you go, tell everyone how they can connect with you and feel free to ask them a question. They're awesome about chatting in the comments!
SF:
I'd love to connect with readers on my
blog
. I do weekly author interviews and lots of book and Amazon giveaways. And I also blog about motherhood, health, and anything else that strikes my fancy. J
Going with the health theme, what's the craziest diet you've ever tried? Any orange juice fasts or garlic and onion diets? J Or even if you've done traditional diets, how did they go?