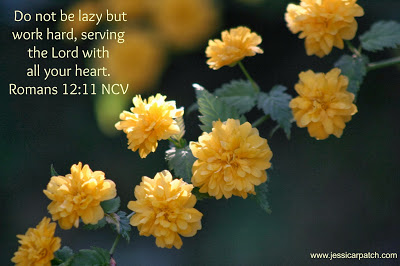 You immediately thought money, didn't you? You know you did.
Working hard for…the Lord!
On Wednesday, we'll unpack this verse using the KJV translation. Here it is for you to meditate on or post to your Pinterest board:
"…not slothful in business, fervent in spirit; serving the Lord…"
I've kept it short you so you can have a couple minutes to worship before moving on to your next blog post! I love this song by Kari Jobe. I love the lyrics even more.
Do you ever find yourself lagging in serving the Lord? Why do you think we lose our zeal? How do you think we can rekindle the fiery passion that used to burn? The video below hints at our lesson on Wednesday and how to serve with zeal, not lagging.