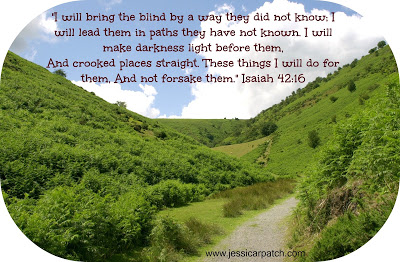 One of my favorite
hope-filled verses. I can't wait to unpack this on Wednesday!
Musing/Meditation prompts: Recount the times
God has led you as though you were blind, down ways you never knew before,
sometimes scary, sometimes thrilling. Think on the times God has brought you
out of darkness into glorious light, straightening out the places that seemed
crooked in your life. Praise Him for never leaving you to travel alone. Never
leaving you blind. Always doing these things for you.
If
you could name a street based on your life or personality, what would you name
the street?
I think my street
would be lovers' lane. Because truly, Jesus has shown me how much a lover of my
soul he is.