These Prada shoes cost $790.00 I know because I own them. Sort of. Okay, one of my characters in a novel does, but that's kind of the same thing, right?
I'm going to admit something. These shoes look so much prettier on than a  pair of Roman Soldier cleat-like shoes. At first glance, and probably tenth, I'd choose these suede, sling-backs.  
There's a phrase that shoes make the man. I believe this to be true.
Shoes for day. Shoes for night.
Special shoes for runners, baseball players, soccer players, going to the beach, scuba diving, etc…
And shoes for Christians. 
A couple years ago, I was walking "Jane" out to her car after a day of hanging out. I was barefoot. I'm not a barefoot kind of girl. Never have been. My sister could run on gravel, but I barely grazed a pebble and thought I might die.
I stepped off the concrete and the Lord spoke as clearly as He could without being audible. "You're about to step on a bee."
I should have stepped back. Instead, I took one more step and the pain that entered my foot and shot up my leg was insane. I hollered out and "Jane" helped me back inside. I made a baking soda paste like I remembered my mom had done when I was a kid and attempted to play in the sprinkler.
The lesson I learned then was listen and obey when God spoke. I'd been going through a "Hear My Voice clearly" time in my life. Second stage: Obey. I'd failed and got stung. Lesson learned.
But I remembered that incident while studying
Donna Pyle's Your Strong Suit Bible study
. (click the red link to purchase!)
She says, "In our spiritual battles, stability and balance prove essential in remaining upright….Wearing these shoes endues us with God's strength."
She's referring to the way Roman soldiers' shoes were made. With spikes along the bottom, similar to a cleat. To dig into the ground, to balance.
Special shoes even for war.  Combat boots.
Now, I'll admit, the Prada shoes look prettier. I'm a fan of pink. But they wouldn't hold up in war. In fact, most things the enemy entices us with are beautiful but in the end leave blisters on our flesh and aches and pains and cost more than we can afford.
Ephesians 6:14 says to "shod your feet with the preparation of the gospel of peace." Shod in the Greek is "hypodeo" and it means "to bind under one's self."
The gospel of peace goes under our feet. It's our foundation.
What is the gospel of peace? It's the glad tidings of the salvation through Christ. It is good news!
Preparation in the Greek is "hetoimasia" and it means: "the act of preparing; the condition of a person or thing so far forth as prepared, preparedness, readiness" When we're about to head out, the last thing we do is put on our shoes. It signifies readiness. It shows we're about to leave.
I've said it a million times, "You have your shoes on? I'm ready to go." It's how I know if my kids are ready to walk out the door or are still lollygagging.
We have to be ready with our spiritual shoes. The gospel of peace. Wherever we go, we're walking on the foundation of Jesus Christ–His death, resurrection and the hope and peace of eternal life, that we can never be separated from His love, He never leaves or forsakes us. Peace that passes all understanding.
It's what defines us from everyone else who's walking around barefoot.
The world is a dangerous place. We have no choice but to walk it's evil streets. But if we're prepared and ready. If we're wearing the right shoewear, we can walk with ease.
It reminds me of the movie Die Hard. Bruce Willis is cleaning up in his wife's office–wife-beater tank, a pair of pants and that's it. At that moment, hell breaks loose in the business tower and he has to move quickly. Unprepared.
The enemy looks down at the floor in one point. A shooting match had just taken place, and he notices blood on the floor. He realizes, Bruce is barefoot. He grins and shoots out the glass windows leaving Bruce no choice but to walk on broken glass.
Bruce makes it to a bathroom where he picks shards out of his feet, the pain excruciating. He binds them with cloth, but that's not enough.
He wasn't ready for the havoc that had been unleashed. But to survive, he had to fight unprepared. It came at a cost. It came with insurmountable pain. It came without sureness and peace.
A scene or two later, he takes a pair of shoes from a dead guy and gets his hero on. Taking out the bad guys and winning.
The point?
"Preach the word! Be ready in season and out of season. Convince, rebuke, exhort, with all longsuffering and teaching." 1 Timothy 4:2
This doesn't mean hand out tracts to homeless people, but let their stomachs continue to be empty. Nor does it mean stand on a corner and wave your Bible at prostitutes and remind them they're going to hell. They're already living in hell. In their minds, it can't get much worse. It doesn't mean shout at the drug-addicted that God can set them free, then shake the dust from your feet when they aren't instantly delivered.
Patience with people.
Teaching.
In love.
Relational.
When their lives are turned upside down, when your life is upside down– the shoes you wear convince them something about you is different.
Peace.
That can't be explained.
Yet…it can.
The Gospel of Peace.
Jesus Christ.
Your foundation.
Bound to the soles of your feet.
You walk down littered streets, scorching beaches, bee-infested grass, boiling pavements, glassy alleyways, gravely roads…
 with ease.
Protected.
Light in your eyes.
Rain or shine. Snow and sleet.  Tornadoes and hurricanes raging. War and threats of war. In deceiving times. Through the wild jungles where the lion hunts his prey.
You walk.
How beautiful upon the mountains Are the feet of him who brings good news, Who proclaims peace, Who brings glad tidings of good things, Who proclaims salvation, Who says to Zion, "Your God reigns!" 
Isaiah 52:7
Tell me, ladies, are you more of a pretty shoe or all about comfort? Guys, do you even care about what you put on your feet?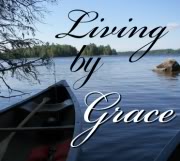 I'm over at Living by Grace today! Come by!