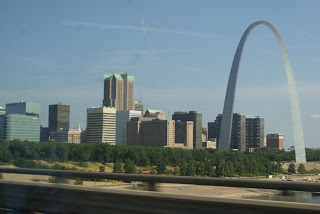 It all started on a dark and stormy night…
Needle rips across record.
Okay, it all started on a balmy morning. And that is true. Finally, after polishing other manuscripts I'd written, I was going to research for a brand new plot simmering, well boiling over, in my mind.
I grew up about an hour away from St. Louis, but I'd never looked at it through the lens of a writer…or an adult. I'd done some homework online and thought I knew where I wanted to go. Since my heroine's an interior decorator, I thought it'd be fun to give the job of remodeling old warehouses into urban lofts. Doesn't that sound fun? Yes it does.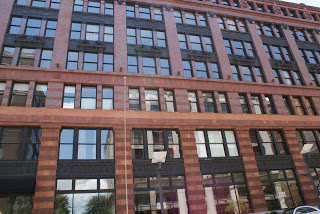 St. Louis Loft district!
My sister and I decided to enlist our husbands. One, neither of us drive well in big cities and two, her husband, Rob, knows St. Louis like the back of his hand. I thank him so much since it helped put a lid on my husband's irritation had we drove aimlessly for hours!
I wanted to visit Lafayette Square and the park! So that's where we went first. To say it was hot is an understatement, but my big sis brought her professional camera and I was so high on excitement, I didn't care…the guys may have.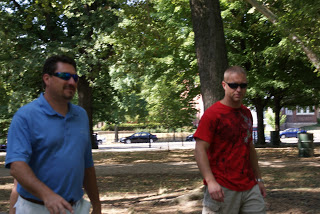 Lafayette Park was even more beautiful than the photos I researched online! Definitely a place for romance!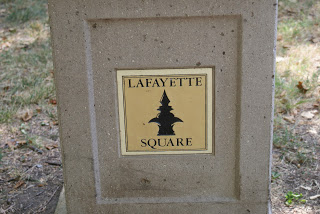 My husband calls the fleur de lis, "Fleur de la fleur" to get
under my skin. It works.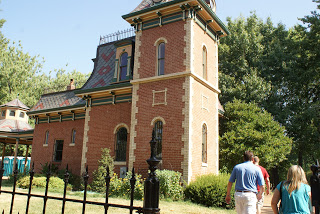 They use this building for weddings! And there's my
family traipsing into the park. My sister's husband Rob said, "
The things we do for Jess." My husband replied with,
"You don't know the half of it."
So true! hee hee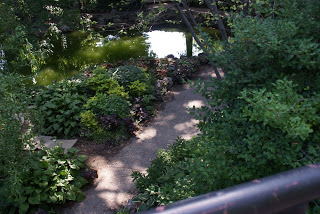 I love the walks lined with lush foliage.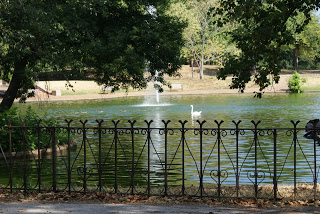 Who doesn't love ducks? (when they're on the other
side of the fence that is) Oh wait, that's a swan! ha!
And sense this new ms is romantic suspense, I hit pay dirt at this park, ya hear me! Pay dirt!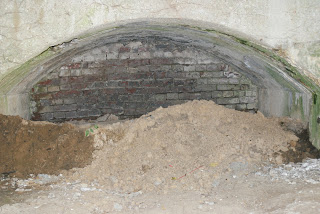 This is like a little cubby hole under the bridge. One on each side. Tell me that's not the A) perfect place to put a squatter, or B) stash a body. After the park, we drove around the neighborhoods. I was looking for homes for my heroine and my hero–he inherited a historical home from his grandma.
The chatter in the van cracked me up. My husband would pull over to the shoulder and I'd click away. "You got what you want?"
"Yep. We're good."
Several natives honked and flipped us the bird. At one point my hubby stuck his head out and yelled, "Hey, we're researching a book!" Pretty sure the driver cared not.
I was so engrossed with my characters and their lives and where they lived, I think I slipped over the edge a minute.
"Hey, that house looks grandmaly-like," my brother in law said.
"That one would work!" my sister said.
I clicked and clicked and then….
I saw it!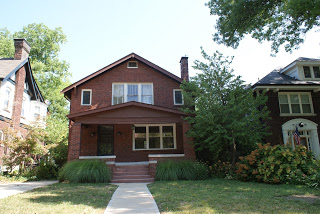 A vacant home. A little run down. In definite need of some interior (and exterior) decorating!
"Stop the van!"
Bathed in light, I heard the angels sing soprano, "Aaaaaaaaaaah!"
Rob said, "Grandma-like for sure. Definite work to be done. Ooooh, foundation issues, look." He and my sister flip houses. He would know.
My heart slipped right out my rib cage. "Oh," I whined. "I don't wanna deal with foundational issues! I can't have a house with foundation problems!"
My husband slid his sunglasses down on his nose. "Really? Jess, the house in your book doesn't have to have it! It's fiction."
"Oh yeah." Everyone laughed and I admit, I pouted. "No. I'm not having a house with those issues that you can clearly see. Drive on."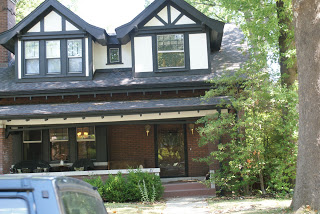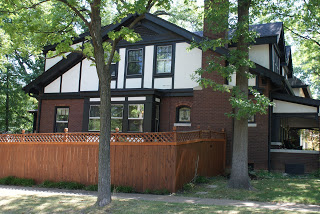 I settled on a different house. We laughed and horsed around, then turned the corner as I hung out the window clicking away, only to see the owner of the house on his deck, shirtless, frowning at us. But I got that last shot and remembered my manners. "Thank you! I love your house!"
"Your going to get us arrested…again!" my sister growled.
"It's been fifteen years, we're due."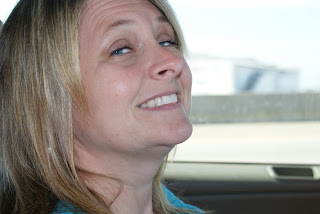 I don't think she was convinced! (My big sis!) Then we went into a classier neighborhood for my heroine's parents and a murder victim.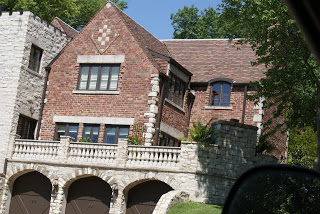 Isn't this house gorgeous! Sigh!
I needed a good place for my heroine, so here's a few of my choices. I have a billion more!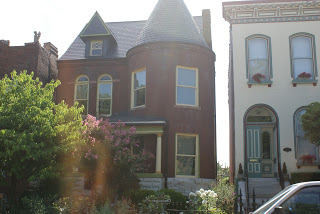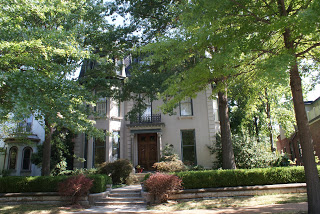 We had a blast and ate at the Cheese Cake Factory. You know they have a "skinny" menu. At. the. Cheesecake. Factory. Yeah…I know. No one felt like being skinny. Not in the whole place!
If you're a writer, have you ever done research out of town for a story? Readers, do you like to see real places in the stories you read?
*Wednesday Jaime Wright will be sharing a devotion, so come back for that and on Friday, Lynette Eason is in the house chatting about her books and suspense!