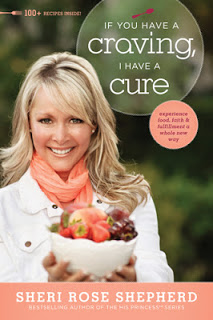 Purchase your copy! HERE
I've read many a
book over the decades on healthy eating and eating in general. Many of them
have been faith-based books. When I had the opportunity to review Sheri Rose
Shepherd's new book on experiencing food, faith & fulfillment a whole new
way, I jumped.
Shepherd's view is
anything can be eaten and enjoyed without the guilt and depression one normally
has when eating something they think they shouldn't.
She shares personal
experiences, New Life tips (scriptures that correlate with the chapters) and
Soul Food (more scriptures) as well as over 100+ recipes. I'll be honest, I'm a
super picky eater. I haven't found a single salad dressing I really like–not
even Ranch. And salad, well, it's for the birds. Literally. So, having said
that, I'll tell you that I didn't find many of the recipes suitable to my
palette. But, for those of you who like onions, peppers, vinaigrettes, and feta
cheese you'll be pleased. Not that every recipe has those ingredients. I'm just
letting you know how truly picky of an eater I am.
Each chapter has a
QR code that links you to her website for additional weight loss and coaching
tips, which I found uber-cool and helpful.
Is it my favorite
faith-based book on eating? No. But I was impressed with the scriptures and enjoyed reading her own
personal experiences. The chapter set up
is truly unique and it's worth a read!
Best-selling
Author, Speaker, Teacher, Humorist
Sheri
Rose has a very refreshing way of bringing the Word of God to life. She knows
how to renew the Eternal Hope in our hearts. Her speaking style is humorous,
heartwarming and inspires every one to make their life count for eternity.
Sheri
Rose is a woman who can relate to almost any woman's battle. This former Mrs.
United States grew up in a dysfunctional home and was severely overweight as a
teen. As a young woman, she battled depression and an eating disorder. She
understands the pain that comes from a broken home and she knows what it means
to fight for freedom from your past. In spite of an English teacher telling her
she was "born to lose" and a learning disorder–Dyslexia–Sheri Rose
has (in God's strength) written best-selling books, founded His Princess
Ministries and speaks to tens of thousands each year at churches and women's
conferences like the Extraordinary Women Tour.
Her Joy
for the Lord, humorous heart-warming stories mixed with truth and transparency
renews our Faith by reminding us how much we are truly loved and adored by our
Father in heaven. Once you heard Sheri Rose speak you will never again doubt
that you are…"God's Chosen Princess"… here for a divine purpose!
She
lives in Southern California with her husband of 22 years and their daughter.
How many books (ballpark figure) would you say you've read on healthy eating? How many of those were faith-based books?
*I appreciate Tyndale House for letting me review this book in exchange for an honest review. All opinions are my own.