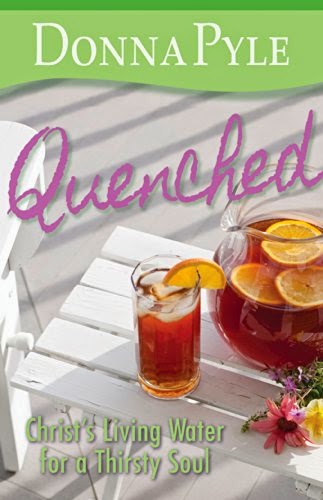 Nothing makes me happier than when Donna Pyle comes to visit on my blog. A wonderful and godly woman, good friend, and anointed Bible teacher, Donna's an inspiration to us all. Thank you so much for being here, Donna!
So settle in with some fresh iced tea! You can have mint, peach, sweet or unsweetened. It's completely up to you!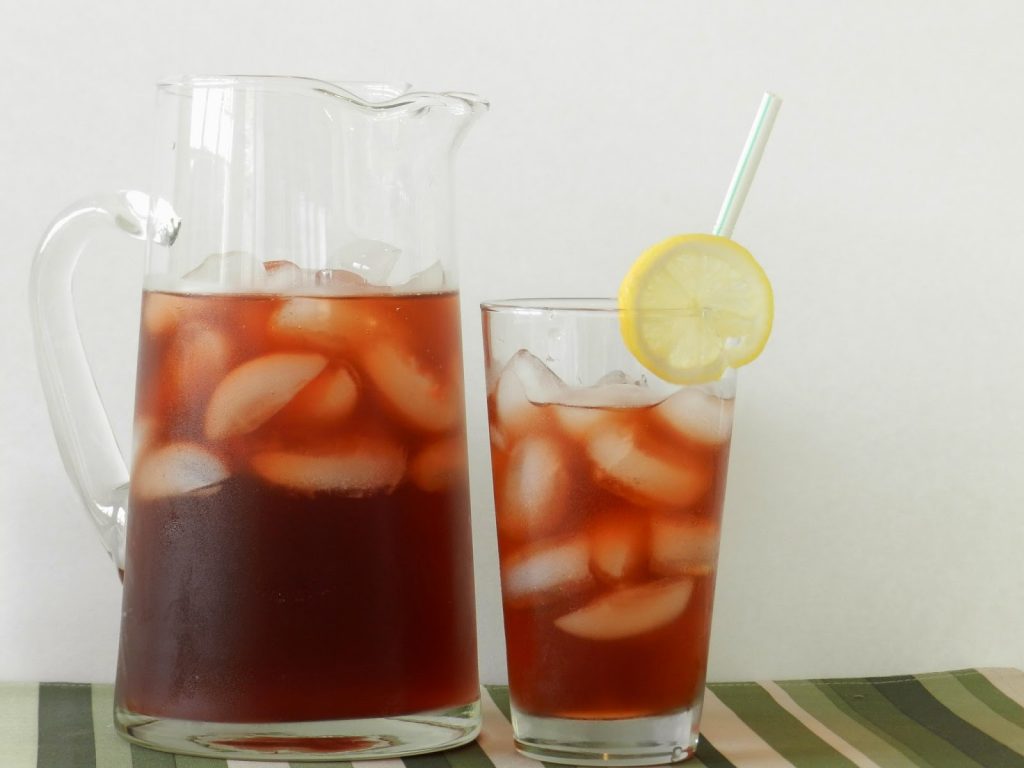 Because there's no better time to be Quenched than when summer heat sweeps in with all its humidity and unbearability. (Is that a word?) And let me tell you, I'm reading it right now and my parched soul is being watered. Donna, your ministry is devoted to bringing Christ's life-giving water. Tell us why this study especially is so important to you.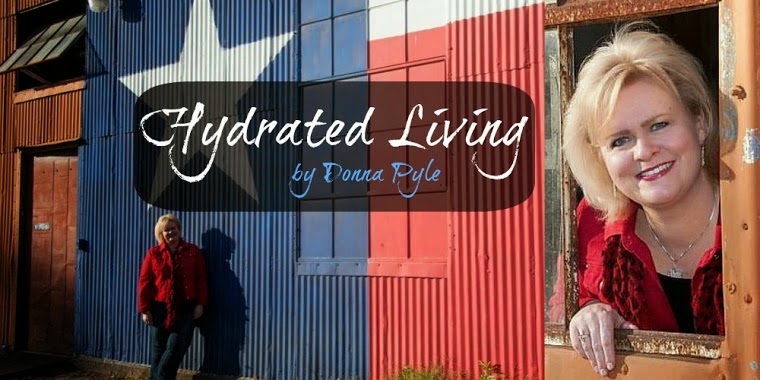 Visit Donna's website for her inspirational devotions
as well as other Bible studies and her upcoming calendar
of events!
Quenched came out of experiencing a heartbreaking divorce four years ago. I never saw it coming. Even though God had nurtured a strong faith in me, that deep hurt flung me straight into a spiritual desert. Walking through that difficult time reminded me of how lost I felt as a new Christian at age 23. The parallels were staggering. I wanted to share those experiences illuminated by God's Word to offer hope and encouragement to others.
As I wrote Quenched, I pictured anyone who feels spiritually dehydrated. At some point, that includes all of us. Seekers or new Christians may feel thirsty for God's wellspring of life but do not understand how to access it. Veteran Christians may become exhausted by hectic demands or difficult trials and have temporarily lost the well's coordinates. Since I have experienced both, it felt like writing to the person in the mirror.
Donna, I know in my own life, God has birthed something beautiful from pain and turned into a ministry to glorify Him. I am loving Quenched. Reading through it and chewing on the wisdom, letting the hope of our Lord anchor me further into His word. I love your life-application. It's what makes it unique. Offering us not only words of hope but ways to walk it out. Not just hearers of the Word, but doers.
Here's a peek at Quenched:
What quenches your thirst? Wealth or health? Career or activities? Or do these things still leave you with a certain level of dehydration?
Perhaps right now you're experiencing a detour through a spiritual desert. Perhaps you see the dry, cracked road ahead and feel like giving up. Perhaps you're new to Christianity and uncertain about how to live your new life in Christ. Take heart.
Jesus offers the goodness and grace that quenches. He shows you the path to streams of living water that will quench your soul's thirst. He doesn't care where you've been. He doesn't care what you've done. He cares about you.
Jesus is the living water that hydrates from the soul out. He said, "Everyone who drinks of this water will be thirsty again, but whoever drinks of the water that I will give him will never be thirsty again. The water that I will give him will become in him a spring of water welling up to eternal life" (John 4:13–14).
Quenched: Christ's Living Water for a Thirsty Soul is for both new Christians and Christians going through spiritual dehydration. Author Donna Pyle has been both—new Christian and tired veteran Christian—so she writes from first-hand experience. Her "been-there-done-that" approach to affirmation and encouragement is welcomed by readers feeling confused or ashamed about living out their witness to Christ.
Regardless of the state you're in, you will be lead to the life-giving waters of Christ's grace, mercy, and hope. Pyle writes with honesty and humor as she points readers to the Gospel message of forgiveness and salvation, and emphasizes that it is only Christ and His grace that quench the parched soul.
Book features include:
Collection of devotions, prayers, Scripture readings, Psalms, and hymns
Clear connection to daily life as Christians
Encouragement and affirmation for new Christians and for Christians going through a time of spiritual dehydration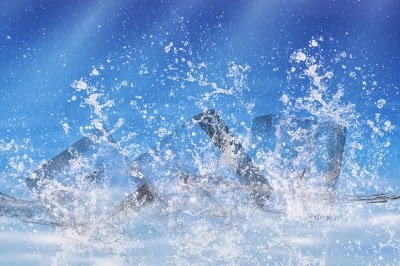 Take the soul-refreshing plunge!
You can read more behind-the-scenes info on Quenched and Donna HERE!
Donna is giving away a
Quenched Gift Basket:
A signed copy of Quenched
$25 Amazon card
A signed copy of her DVD Bible study, Your Strong Suit (I did this study and loved it!)
Tea & chocolate!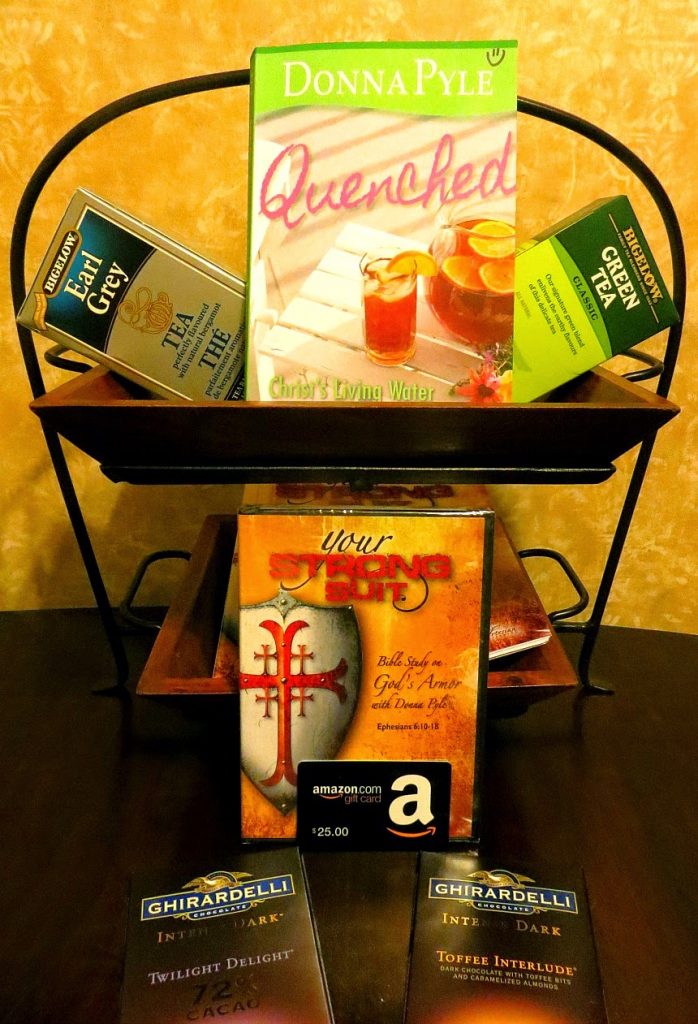 Enter below for a chance to win!