Each Monday I post a book review, or I invite a guest to stop by for you to meet.
Today, I want to know what you like to read.
Right now, I'm reading Judge & Jury by James Patterson. Yes, I read ABA fiction, also called "secular" fiction by some Christians. I read anything, really. There's differing opinions on this subject.
Some people would say there's so much great inspirational fiction, why would you want to read anything out of the CBA market? We need to support Christian writers. I agree with this. We do need to support Christian writers and there is ton of great inspirational fiction.
But, there are Christians who do not write for the CBA market. So are we supporting CBA or Christian writers? I think we can do both!
I don't know what James Patterson's religious beliefs are, but his books do have some foul language and occasionally, depending on what book it is, he drops the "f" bomb. I completely understand why some Christians would not want to read his stuff. You have to go with what your convictions are. Maybe I'm just a rotten Christian with no convictions.
Although, there are some inspirational novels that do occasionally use some four-letter words. I personally have never read any that drop the "f" bomb. Maybe you have.
 How do you feel about that?
I think as a writer I can learn as much from Patterson or Kellerman (Faye and Jonathan) as I can Steven James, whose books cross both markets, (I read this somewhere so if it's not accurate, please don't yell at me) and he happens to be one of my favorite authors. Man, he's good!
Now, I don't read Erotica, fyi, I do have my limits. So maybe I'm not a rotten Christian after all and have some convictions. 🙂  My point is, I'm reading Patterson right now. My next book will be a Lynette Eason novel (inspirational). I've never read her before, and I look forward to jumping into one of her stories on my kindle.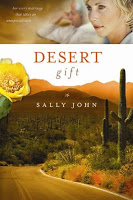 I did a review on Sally John's novel, Desert gift a couple weeks ago. It comes out in June. You can read the review HERE. I'm also giving a copy of this book away today! If you would like to enter for the chance to win, please make a note of that in the comments section. If you don't say you want to win it, you won't be entered into the drawring. (I spelled that like I wanted to!)
Question: Do you read inspirational fiction only or do you cross over and read books in other markets? Why or why not? I'd love to hear your input! Also, how do you feel about swear words in inspirational fiction?