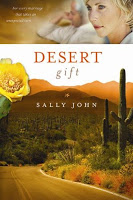 "I want a divorce."
Those words rang in Jillian Galloway's ears all the way to the airport and to California where she was supposed to speak to hundreds of adoring fans. But how do you promote your new book about commnunicating in marriage and keeping your man when yours just asked for a divorce out of the blue?
Desert gift, release date in June, is written by Sally John. It's the story of Jillian Galloway. A woman who's built a career–a ministry–on the perfect marriage, using her husband and all they go through as lab experiments.
One day, he has enough of it. It takes her going back to where she grew up, to the desert in California, to learn some hard lessons about marriage and herself.
Spiritual theme
There is no formula for marriage. A + B does not always = C. God is the heartbeart of marriage, that's the only solid and He wants us to love him and feel His heartbeat first.
What did I like?
Sally did a great job of showing what went wrong in their marriage. Jill does everything by the book and plans everything, but hasn't really been in the marriage. Jack Galloway, her doctor husband, is a wonderful guy, but he's sick of being a guinea pig. He wants to be a husband.
My favorite characters were Jill's sister, Vivian and her husband Marty. Jilllian abhors their marriage. She doesn't think it fits the formula, but though they've had major hits in their marriage, they have a better handle on one than the "expert." One of my favorite parts is when Marty tells Jillian, "Sometimes we even curse…okay sometimes I curse." But it gets deeper and Jillian asks Marty, "How does Viv keep you from leaving her?
Marty answers, "She doesn't. It's my choice."
My rating
I give it 4 stars.
I want to thank Tyndale for the complimentary copy. I will read more of Sally John in the future.
Here's a teaser:
"When you're at the top . . . you've got a long way to fall. A nationally known marriage expert, Jillian Galloway is at the pinnacle of success. Her syndicated talk radio show is a hit and her first book is about to release. But just as she's leaving for her West Coast publicity tour, Jill's faithful husband of twenty-four years drops a bombshell: he wants a divorce.
As her world crashes down around her, Jill flees to her parents' home in the California desert, wondering if everything she's built her career on—and everything she's built her life around—is a sham. She thought she'd done everything right. So how did her marriage slowly slip away? And will she ever get it back?
From best-selling author Sally John comes an insightful and inspiring story about the unexpected detours our lives can take, the lies we sometimes tell ourselves, and the hope that God is always at work, even in the desert."
What are you reading right now, and tell me what you did for Mother's Day if anything?