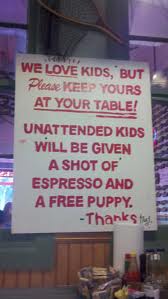 This is the sign inside our
favorite place to eat, The Flying Fish.
I laugh every time I see it!
You can see why this is my
kind of establishment!
So Saturday night, to end my birthday week, DH took me downtown to eat at our favorite place, but when I got there…SURPRISE! He'd been sneaky and invited our friends who made a fun spectacle of me! We ate lots of seafood and birthday cake.
AND…
I've been blogging an entire year since last October! Truth is I wasn't sure I'd even like blogging. "What would I say?" "Do people really read blogs?" "What if no one likes me?" Turns out, I find all kinds of stuff to say whether it's important or not, people do read blogs, and I've made some lifelong friends because of it! I love y'all! I appreciate you taking time to stop by and read whatever it is I'm writing about and then taking more time to actually comment! You've made it so much fun! And for you lurkers, keep lurking. I hope you laugh at times, are ministered to at others, and keep coming back. If you don't like leaving comments, send me a private email! I'd love to know you're hanging around. 🙂




NOW…. A review of….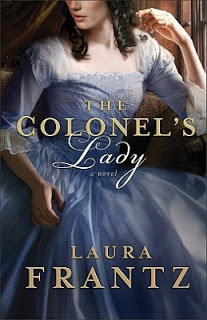 THE COLONEL'S LADY by Laura Frantz


In the last six months, I've just begun branching out of my normal genres of reading. I've only read a handful of historical romances. Most of them I've liked, but NOT The Colonel's Lady.
I LOVED The Colonel's Lady.
Laura Frantz grabbed me from the first page with a heroine who was fragile, yet strong. Naive, yet intelligent and I fell in love with her instantly.
Her hero, Colonel McLinn, well… sigh, dream, wow! Interesting thing about Colonel McLinn; he's a red head. You don't see that often with heroes. An Irish tall drink of water with red hair.
The tension between the two was superbly written, the angst for them to be together at an all time high and the twists, fun and delightful…and surprising!
The soft themes of forgiveness and trust blanketed each page in a way that was far from preachy.
I sighed, swooned, and at the very end…in the words of Casey Herringshaw at her goodreads review "I couldn't write this book review right after closing the final page of "The Colonel's Lady". Why? My heart was too full."
I lived at the Fort in Kentucky and near and in the stone house for days after reading this book.
A romance to read. A book to keep. An author to follow.
My rating: 5 perfect stars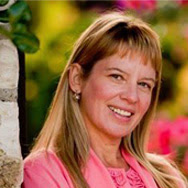 author, Laura Frantz
Here's a peek at The Colonel's Lady.
In 1779, when genteel Virginia spinster Roxanna Rowan arrives at the Kentucky fort commanded by Colonel Cassius McLinn, she finds that her officer father has died. Penniless and destitute, Roxanna is forced to take her father's place as scrivener. Before long, it's clear that the colonel himself is attracted to her. But she soon realized the colonel has grave secrets of his own–some of which have to do with her father's sudden death. Can she ever truly love him?
Unrelated to the post, what is your favorite fall candle scent? I just bought Yankee Candle scents: Farmer's Market & Pomegranate Cider!