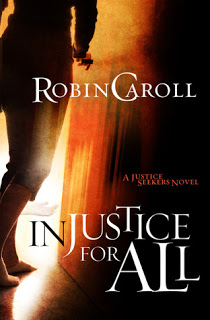 I know, I don't normally post on Thursdays but I finished a novel and you need to know about it. Like today.
I'm a fan of Robin Caroll. I am. She stood two feet from me at registration for the ACFW, looked right in my face and I choked. I said nothing. I might have given her a goofy grin. Not sure.
I enjoy her books. I love her characters and I especially loved her hero and heroine in Injustice For All the first book in her Justice Seekers series. I've read the first two backwards, but it didn't really effect anything. I prefer to read a series in order, personal choice, but you don't have to. I'm itching to get my hands on her newest, Strand of Deception!
A heroine running for her life to stay alive, an FBI agent trying to prove himself by solving a cold case that involves her. That makes for lots of high impact action, swooning romantic scenes and lots of witty and fun dialogue!
Her characters aren't just well-crafted, they're real. I could relate to several of them in different areas of my own life.
The spiritual threads are relatable (is that a word?)–even if you aren't running from bad guys who can crush you like a cigarette.
I know what to expect when I pick up a novel written by Caroll. Southern heat and phrases, twists and turns, and a lovely romance with plenty of tension all laced with a journey of faith or to find faith.
*Thanks to the publisher and netgalley for the complimentary copy. All opinions are mine and honest!
Here's a sneak peek:
A federal judge lies bleeding
on his office floor, betrayed by a most unlikely source—people who helped him
bring criminals to justice. Now, why would someone working for the FBI need to
disappear after witnessing this crime?
When Remington Wyatt sees her godfather's murder, she
recognizes the killers and knows it's only a matter of time before they come to
silence her. She must do the only thing possible to stay alive . . . run.
FBI agent Rafe Baxter is serious about his career, and
solving a cold case involving a federal judge's death puts him in line for the
promotion he so desires. But the case leads him to the small town of Hopewell,
Louisiana, where some secrets seem inextricably hidden deep within the bayou.
Injustice for All explores what
happens when everything a person believes in is utterly destroyed. Who can you
trust?
If you had to run for your life and settle down in a new town, what you change your name to and where would you settle?