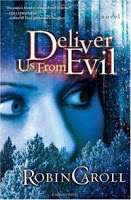 I hope you all had a great weekend. My son is back to full speed ahead and I'm feeling better too. Thanks for all your prayers!
I want to say congratulations to Jessica Nelson! She's a Genesis finalist. If you don't follow her blog already, pop over and congratulate her and follow!
Also, congratulations to Sheri Salatin for her win in the Purple Shadows contest! Hurray!
Now, on with the show this is it…
"You want me to escort a heart?"
Deliver Us From Evil is a novel by Robin Caroll. She writes southern stories of mystery and suspense. This book is about a U.S. Marshall whose assignment is to transport a heart to the hospital for a government witness in a human trafficking ring with locations in Tennessee.
When the helicopter goes down in the smoky mountains, it's up to Brannon Callahan–a ranger– to fly in and rescue him and the heart. But the traffickers want that witness dead and anyone who gets in their way.
Each chapter has something happen to make matters worse, but isn't that what suspense is supposed to be? They get out of one mess and before you blink, another one surfaces. It's a romantic suspense, and as you can guess sparks fly between U.S. Marshall Roarke Holland and the lovely, but independent and strong, Brannon Callahan.
What did I especially like about the characters?
Her characters were well thought out. Each one had their own set of quirks. Roarke taps the butt of his gun for comfort and is scared of small spaces because of a past incident.
Brannon Callahan and her co-pilot Lincoln–both Christians– quote scripture and then the other one has to give the chapter and verse. It's a little something they do when a situation seems bad to remind them of Who is in control and it brings them comfort. I thought it was neat and a great way to bring God in without being preachy.
Congressman McGovern has rules and throughout his Point of View (POV) he uses them. "And rule one–always appear to be in charge." He states it then does it.
The deep storyline
One POV came from a young girl named Mai who had been sold by her family into the trafficking ring. When I read the first scene introducing her, my stomach crawled because of what was happening to her. But I'm glad that Robin wrote it fairly graphic and that the publishing house, Thorndike Press, allowed it. Sometimes, we need to squirm in our seats. Not everything in this world is cookie-cutter picture-perfect. I like those books on a occasion, but I also like when an author gets to write it the way it really is.
My heart burned for these girls and that drove me to whisper a prayer as I read her scenes. Yes, it had a happy ending, but for most girls trafficked, it doesn't end well at all.
Spiritual theme
Bad things happen, but God is in control. Always.
I had the twist figured out, but with suspense it's about the edge of your seat, "now what" kind of read and not a who is doing it, but I generally like a little more mystery even in suspense novels.
Will I read more of Robin Caroll? You betcha.

 Here's a teaser:
"A beautiful yet tough woman working in a beautiful yet tough setting, Brannon Callahan is a search and rescue helicopter pilot for the Great Smoky Mountains National Park. Strong faith and a decorated history of service have kept her one step ahead of on-the-job dangers, but there's no precedent for what's about to happen. After a blizzard takes down a small plane carrying U.S. Marshal Roark Holland (already haunted by a recent tragedy), Brannon must save him in more ways than one and safeguard the donor heart he's transporting to a government witness on the edge of death. Otherwise the largest child trafficking ring in history-with shocking links from Thailand to Tennessee-will slip further away into darkness along the Appalachian Trail."
What about you? Do you like suspense–hanging on the edge wondering if the heroes will escape or save the day, or do you more mystery–figuring out what is going on and who is doing it?