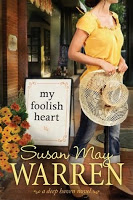 "But perhaps that's what love was–foolish. After all, God loved most foolishly. He came into the dark world to rescue people who might never love Him back. Maybe, in fact, the foolish heart was the perfect heart."
Love is always a risk. Fear of rejection, failure, pain. Issy Presley has fears. One of them is leaving her home or backyard–but she wants to. She's tried. She's prayed. Fear keeps her locked away.
She works in the backyard, taking over her mother's garden after she died tragically and she's the secret host for a night time radio talk show–My Foolish Heart–where she gives advice on romance and dating. Don't settle for a man who isn't a perfect 10 on your list! She's never met her perfect 10. She's never dated at all.
Enter, Caleb Knight–an ex-college football star, and a wounded ex-soldier. He wants a normal life in the small town of Deep Haven and hopefully the high school football coaching position. He isn't looking for love, but when he meets his next door neighbor–Issy–things change. He decides to enlist some help from a woman he hears on a late night radio show. Miss Foolish Heart. She has all kinds of advice to share with him to win his next door neighbors heart.
So what did I think?
I think I love me some Susan May Warren! The characters became my friends. Deep Haven became my home. I laughed and sighed at the romance. Pitter-patter sweet romance. The sub-plot with her friend Lucy and the ex-boyfriend coming back to town was just as good as Issy and Caleb's. A great book. I appreciate Tyndale House for giving me a complimentary copy to review!
Spiritual truths
Perfect love casts out all fear. Enough said.
Here's a teaser:
"Unknown to her tiny town of Deep Haven, Isadora Presley spends her nights as Miss Foolish Heart, the star host of a syndicated talk radio show. Millions tune in to hear her advice on dating and falling in love, unaware that she's never really done either. Issy's ratings soar when it seems she's falling in love on-air with a caller. A caller she doesn't realize lives right next door.
Caleb Knight served a tour of duty in Iraq and paid a steep price. The last thing he wants is pity, so he hides his disability and moves to Deep Haven to land his dream job as the high school football coach. When his beautiful neighbor catches his eye, in a moment of desperation he seeks advice from My Foolish Heart, the show that airs before his favorite sports broadcast.
Before he knows it, Caleb finds himself drawn to the host—and more confused than ever. Is his perfect love the woman on the radio . . . or the one next door?"
To WIN a copy of this book, please click "follow" and hang out with me every MWF, if you don't already, and ANSWER THE FOLLOWING QUESTION:
Who would play YOU if your life was going to be made into a movie?