Y'all. For real. I am a such a fan of Carrie Stuart Parks' books. They are some of my favorite suspense/thrillers. For those of you who enjoy romance, there are light romances…hints really in her books. But they can't be labeled as romantic suspense.
I just finished reading her latest thanks to Netgalley. Fragments of Fear is a new book and seems to be a stand alone.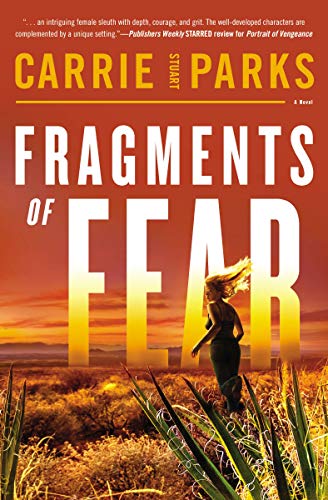 There's so much I adore about Carrie's books, but let's just chat about this one.
Characters: Well-crafted. Real. I related to the main character Tavish (love that nickname). She's a bit cynical, but not in a "whiny I don't like you" way. She's had some hard hands dealt her in life. I also love her wit/humor. She's a fighter, a survivor, and a searcher. I will say she finds everything she's searching for which brings us to…
Faith Thread: Carrie always has a faith thread in her books, some a little more overt than others. This one is in the middle. I wouldn't consider it preachy in any way and I think it can cross both markets, Christian readership and General Market without getting dinged for being "too Christian" or "not Christian enough".
Suspense/Thriller: I enjoyed putting the puzzle pieces together while hanging on throughout the danger scenes and there were aplenty to keep avid suspense readers enthralled as well as mystery readers who love trying to figure out what is going on and whodunnit.
Resolution: Everything is wrapped up and explained in a natural way that makes sense. No 'give me a break' moments! At least not for me.
Highlight: If you love dogs, you'll love really all of Carrie's books as they have a direct role, but this one features a pretty cool Puli.
So put it on your TBR pile or go preorder it now so it will drop right into your Kindle on July 23rd, 2019 when it releases!
*I received a complimentary copy of this book. Opinions expressed in this review are completely my own."