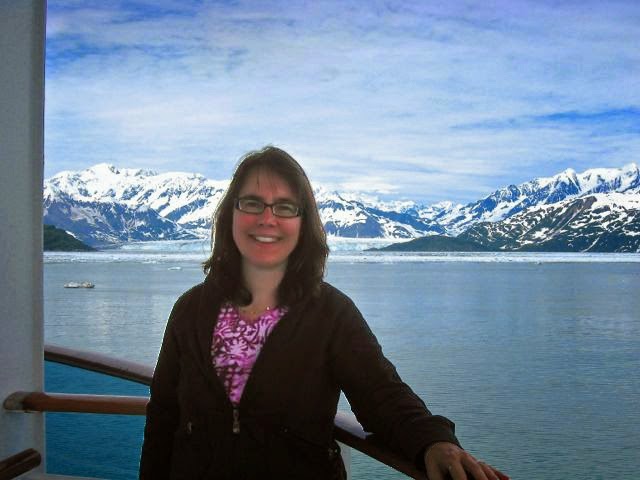 Suspense on the open waters! What could be cooler than that? Don't say glaciers on open waters. I'm chatting with author, Sandra Orchard about her new Love Inspired Suspense, Perilous Waters. I asked Sandra to share with us what inspired the story (don't say love) and to tell us 3 fun facts about herself! Thank you, Sandra, for hanging out with us today…so, what inspired Perilous Waters?
The inspiration for Perilous Waters began with a
newspaper article about Alain Lacoursière, a Montreal police detective who
founded one of the top art-theft units in the world. The FBI estimates that the
international black market in art is worth about $6-billion a year. It sounded
like great fodder for a story! I began gleaning articles on the Internet and
even read a biography of the founder of the FBI's Art Crime Team, long before I
had any notion of where I would se the story. Then…
My husband and I took an Alaskan Cruise to
celebrate our 25th anniversary.
When I saw the art gallery and on-board auctions, not to mention a slew of
potential deathtraps, I knew I'd found the perfect setting for the story. Find
more behind-the-scenes tidbits, including location pics at:
http://sandraorchard.com/extras/bonus-book-features/#perilouswaters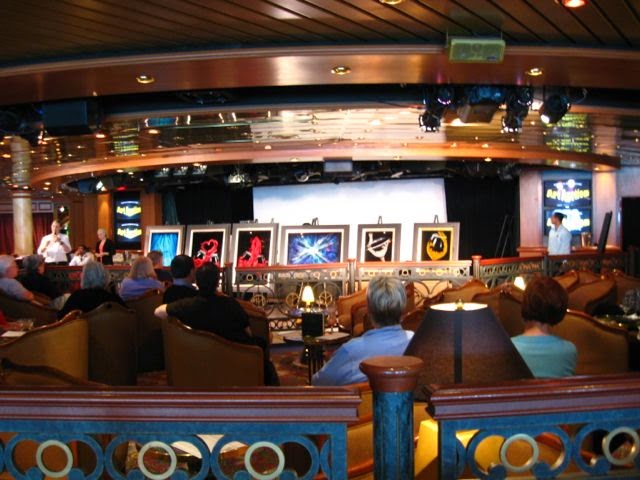 The above pic is an auction I attended aboard ship. I also
had a behind the scenes tour of the ship, which provided more ideas for mayhem
than I could possibly use in the story. J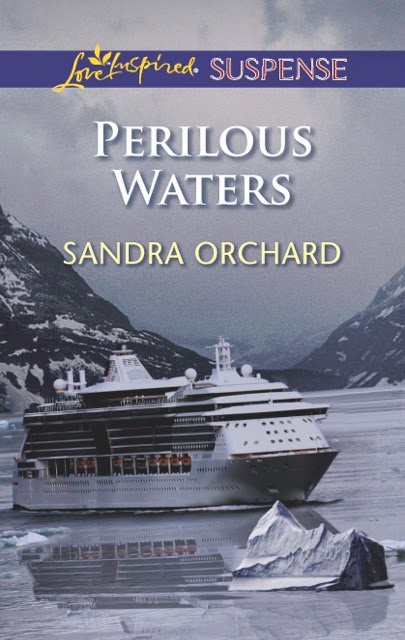 UNDER SUSPICION
For FBI agent Sam Steele, there's no room for error or emotions on his
latest undercover assignment. Getting close to gallery owner Jennifer Robbins
while on an Alaskan cruise is the only way to catch her dealing stolen art. Out
on the icy seas, Jen suddenly goes from suspect to victim when she's targeted
by a deadly enemy. And Sam's mission goes from investigating an art crime to
protecting the woman who's begun to melt his heart. As danger looms closer,
he'll do anything to save her life—even if it costs him his own.
LINKS:
THREE FUN FACTS ABOUT SANDRA!
I'm a "nana"! It is soooo much fun. And the best part is
that my three-year-old granddaughter and not-yet-one grandson live only a five
minute drive away, so whenever I'm in need of a hug or a smile or a good belly
laugh, I can hop in my car and escape my uncooperative characters to play with
real ones. J
I love to play games, and I got to tell you that I was never one of those moms that let her kids win. Uh, uh, I'm pretty
competitive. Around here, we enjoy a good game of Settlers of Catan, usually
one of the extended versions to make it more challenging. And just like week a
played hooky from writing to attend the afternoon "adult fellowship" (which is
the code word for seniors group, which despite being a nana, I'm still at least
a decade or two too young to qualify), because…they were playing games. We had
a rousing game of Rook, which I didn't lose. Almost, but I did manage to win
the last hand which saved me from finishing dead last. J Oh, and I totally justify
going out as "character research." I came home totally inspired as to how to
write my heroine's frustration at losing!
Last fun fact, I'm a Jill-of-all-trades. I've renovated two
houses doing everything from installing windows, doors, trim, flooring, siding,
insulating, shingling, hanging cabinets, plumbing—even put in the kitchen sink J. I also designed and
built a small horse run in. I've tried my hand at just about everything except
the electrical stuff—that's hubby's department. And here's the rest of the story. Renovating is a GREAT excuse for having a messy house. I
much preferred building something than cleaning, because…you still had
something to show for it three hours later! Sadly, I can't say the same thing
about writing. The house is a disaster, but eight hours later, I might have
less words than when I started the day and no one sees them anyway!!!
Thank you so much for hanging out, Sandra!
Sandra Orchard
is
the award-winning author of several inspirational romantic suspense/mysteries,
including
Deadly Devotion
and
Blind Trust
from Revell Publishing. Her Love Inspired Suspense titles have
garnered two Canadian Christian Writing Awards and a
Romantic Times
Reviewers' Choice Award. Sandra has also received a Daphne du Maurier Award for
Excellence in Mystery/Suspense. In addition to her busy writing schedule,
Sandra enjoys speaking at events and teaching writing workshops. She lives
in Ontario, Canada. Learn more about Sandra's books and check out the
special bonus features
, such as deleted scenes and location
pics, at
http://sandraorchard.com
.
What is one fun fact about yourself?