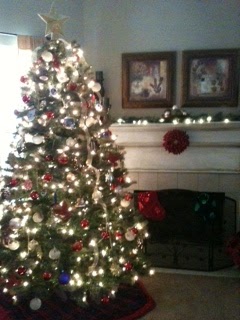 My Christmas tree! I still need
to hang the stockings!
I love this time of year. I love sitting on my couch sipping coffee or tea and staring at my white Christmas tree lights. Quiet mornings. I love shopping for my family (in the mornings and not during the crowded evenings).
This season is busy, but in a fun, joyful kind of way. Shopping, recitals, talent shows, baking, get-togethers, church events.
I'm also finishing my WIP (work in progress) I only have about 30K words left. I'm on the downside of the mountain, but I'd like to have it finished before the Christmas week begins.
In the midst of all that, we still have Christmas traditions. A close friend comes over and helps me ice Christmas cookies–a secret recipe that she begs me for each holiday. She's tried to mix other recipes to match it, but can't! I love teasing her about it.
On Christmas Eve, we take the kids out for lunch and maybe a movie then that evening after looking at Christmas lights in the park, we go home and the kids unwrap a present (PJs), then we make hot chocolate, chocolate chip cookies for Santa, snuggle up on the couch and watch White Christmas then the animated Little Drummer boy (which makes me cry each year). The kids head to bed in their new jammies. The next morning, we open gifts and munch on sausage balls and monkey bread. It's a wonderful tradition and I hope my kids will take some of it into their homes when they grow up!
And with all that's happening, I'm going to take a nice long blogging break for the month of December. Oh, I have a guest spot or two lined up and I'll post those and if I get a wild hair I might throw up a post. But I won't be around the blogosphere until the first of the year.
Will you miss me? 🙂 I'm going to miss you, but I will be on facebook and twitter! We'll keep in touch.
Have a wonderful Christmas season! Tell me, what do you put on the top of your Christmas tree? An angel, star, other?