Today, I am honored to have a Victorian tea with author,
Keli Gwyn! I even broke out my new tea set! If you're around Keli for about two
seconds, you'll fall in love with her sweet and gentle spirit. Keli is an
encourager and romantic! You can read about her real-life romance with Gwynly
on her blog! Always insightful and inspiring.
JP:
Keli, what kind of tea are you sipping? How do you take it?
KG: My favorite tea is Bigelow's Mint Medley. I add a
healthy dollop of honey.
JP: I
like mint tea as well, but I'm having Irish Breakfast tea with a splash of real
cream and Splenda! We're also having an assortment of Keli's favorite pastries:
shortbread and vanilla scones. You know, Elenora—your heroine in your debut
novel, A Bride Opens Shop in El Dorado, California, wasn't much of a cook. How
about you?
KG: This is one trait Ellie and I share. I don't like to
cook and am not much good at it, although I've managed to keep Gwynly satisfied
nearly twenty-five years. Of course, he's very easy to please. In my defense, I
do make yummy enchiladas smothered in green sauce.
JP:
Enchiladas sound divine, but I'll suffice with this delicious vanilla scone!
You know, I was telling my mom about your book and I believe my exact words
were, "Keli writes all things Victorian." What do you find most fascinating
about the Victorian Era and why did you choose to write about it?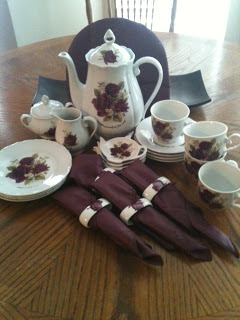 I'm having so much fun
using my new tea set today!
KG: What a great
question, Jess. Even before I began writing, I gravitated to stories set in the
Victorian Era. Why? I'm not sure. I find the fact that the Victorians labored
under such rigid rules and societal restrictions intriguing. Being a
Californian, I enjoy the Westward Expansion aspect of stories set in that period.
And I do love the clothing of the time—all but the corset, that is.
JP: I
was shocked to learn how dangerous corsets were to women back then! I feel
suffocated just thinking about it! Being
a woman has its setbacks for your female lead character, who wants a business
partnership with Miles Rutledge, but her tenacity is inspiring. What do you
think was the hardest thing for a woman during this time? Why?
KG: Aside from wearing corsets and wilting in the summer
beneath the many layers of clothing Victorian women wore, I think the
repression they experienced must have been hard on them. Thanks to the
suffragists, women were becoming more self-aware and eager to explore new
avenues, but they had a tough battle to convince men—and many traditionally
minded women—that they deserved the right to vote, own property, etc., rather than being considered property.
This isn't to say that I'm a feminist, because I'm not. I'm happily
married, and I understand and accept the Biblical teaching that Gwynly is the
head of our family. But I like being able to voice my opinions. And I do like
the fact that I have a book out with my
name on it, a privilege that women writers in the past were often denied.
JP: I agree with you, Keli, and I think you did a
wonderful job making Elenora strong minded, yet able to follow Miles' lead when
needed. Well done! Since we're having tea and chatting about A Bride Opens Shop in El Dorado, California,
can you share a few fun facts about a Victorian tea? Did women wear gloves? Was
there a proper way to "have" tea? Am I doing this all wrong today?
KG: Trust the Victorians to have rules for just about
everything. One of my etiquette books from the time devotes eighteen pages to
the Tea Party, and yet the chapter begins by saying this about the Afternoon
Tea: "Gone are the anxieties, the formality, and the etiquette of the dinner
table."
Afternoon Tea took place between four and six p.m., with a
recommended maximum of six guests. The hostess could choose whether or not she
wanted her guests to bring their own teacups. A lady would wear a tea dress,
which could be worn without a corset. (Ah. Sweet relief.) She must, however,
wear gloves, which is why the food had to be prepared in such a way that
butter, fillings, etc. were not on the outside of the sandwiches and biscuits.
She would also wear her hat during the entire visit.
The Victorians were known for having lists of "do not's." With regard to Tea
Parties, three I find entertaining are: do not request more than one or two
spoonfuls of sugar, because that "is ill-bred and appears greedy;" do not quite
drain a cup or glass; and do not extend your ring and small fingers upward, for
that "bespeaks arrogance, not refinement."
JP: I
chuckled on the "gone are the anxieties, the formality" part! Wow, that's so
interesting. And pardon me for sticking out my pinky! Really, I'm not arrogant,
just uneducated! LOL Okay, tell us one thing you truly hope readers will take
away and forever remember about your debut novel?
KG: Oh. This is easy. I hope they remember how much fun they
had reading it. There are messages and themes in the story, of course, but to
me, those are secondary. As I see it, my job as an author of fiction is to
entertain, and that's what I endeavor to do first and foremost.
JP: Well, you nailed it then! I was thoroughly entertained
and engrossed! I loved your book, Keli, and I anticipate reading your sophomore
novel. When can we expect to see that one on shelves?
KG: I'm glad you enjoyed the story, Jess. Hearing that warms
this debut novelist's heart.
As to when readers can expect my next book… Soon, I hope. My
agent and I are working on that now. And you can be assured it will be a historical
romance set in the Victorian Era, since I'm smitten with it.
JP: I'd
expect nothing less! Well, whatever and whenever, I know I'll be ready for it!
I hope you'll pick up Keli's debut novel and read it, if you haven't already. You won't be
disappointed!
Thanks
for sitting a spell and having tea with me today, Keli! It's been a treasure.
KG: Thanks so much for having me as your guest, Jess. What a
pleasure to spend time with you and your blog's visitors. I have a question for
all of you: What is one thing you've
heard about the Victorians that you find particularly interesting or unusual?
To learn more about Keli, you can visit her Victorian-style
cyber home at www.keligwyn.com, where
you'll find her parlor, study, carriage house, and more, along with her blog
and her social media links.
Here's a peek at A Bride Opens Shop in El Dorado, California:
An ever-resourceful
widow, Elenora Watkins arrives in El Dorado ready to go into partnership with
Miles Rutledge. When he refuses, Elenora becomes the competition across the
street. Is this town big enough for the two of them? Miles can't help but stick
his well-polished boot in his mouth whenever he comes face-to-face with
Elenora. Can he find a way to win her heart while destroying her business?
Miles's mother, Maude, is bent on Elenora becoming her new daughter-in-law
while Elenora's daughter, Tildy, thinks Miles would make a perfect papa. How
far will these meddlers go to unite this enterprising pair?