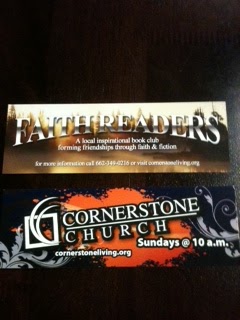 So what do you think? This is the front/back side to our book marks! Our church is blessed with a web designer, Jeff Redding, who designed this for us. We stuffed them in books to donate to local hospital libraries. If someone needs prayer, wants to join a local inspirational book club, or simply needs a book mark, they have it!


Last night, we met for our 2nd book club discussion in our Cornerstone Cafe. We had home-made pumpkin dip with gingersnap cookies and a few other assortment of cookies for dipping. And of course, coffee!
We settled in and over dessert we discussed
NO SPOILER ALERTS!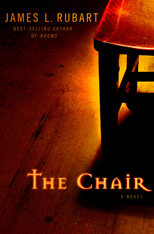 "So what is your final conclusion?
Do you believe the chair has the power to heal?"
Each month I choose a genre and select 8-10 books within that genre, then we take a vote. Several women were outvoted in the speculative fiction category, but hey, we won't always agree and that's what makes book club interesting. (but those who got out voted ended up liking the book)
The Chair is about two brothers, Corin and Shasta, who haven't spoken in ten years because of a tragic accident leaving Shasta paralyzed from the neck down. When an old woman brings Corin a chair claiming it was made by the greatest carpenter ever, Corin has his doubts, but when a little boy is healed from sitting in the chair, it takes him on a great journey of faith and hopefully answers to restoring the estrangement between himself and his brother, Shasta.
"Well how did you like the book? Did everyone here like it?"
"I'll admit, I really didn't want to read this book. It's a chair. Who wants to read a book about a chair? But…I was hooked to the very end. Out of 1-5 I give it a 4."
"Me too," another said. "I give it a 5 because it spoke to me personally. I was in the hospital waiting with my husband when I started reading this. They told me my husband may never walk again and for a few days he was paralyzed. And this year has been hard for my family, but God gave me the word 'restoration.'"


No one scored The Chair below a 3 on the rating scale.


The theme was restoration but
not everyone saw that as the main theme.
"I saw it as a journey of trust and faith. He had to dig to figure out what it was he believed and he was tested every step of the way."
"I saw restoration." Many agreed with this statement and the above.
Every one had someone to relate with.
"I could relate with Nicole."
"I relate to Corin. I had an estrangement with my sister and even though I tried to mend it, she wouldn't forgive me, but I was healed."
I think we could even relate with Pastor Mark, hiding our weaknesses from others while desperately trying to find something to heal us inside from our sins. A quick fix when so many times healing and delivering is a process. Sometimes God heals instantly. Sometimes He makes us walk it out.
"I could relate to Tori–the girlfriend. She was hurt in church and sometimes it's harder to bounce back from a Christian hurting us than someone who claims no faith. We expect more from Christians."
The Chair wasn't what everyone expected.
It was more.
I kept thinking, "Get in that chair! Put him in it!" And when something happened (I won't give it away) it hit me that I was rooting for the chair…and not Jesus. Which shows how easy it is to take your eyes off the Healer and on the object.
Here's a peek at the chair:
When an elderly lady shows up in Corin Roscoe's antiques store claiming to have a chair made by Jesus Christ, he laughs her off. But after she delivers an ancient looking chair made of olive wood three days later—with a cryptic message attached to it—he begins to wonder.
Corin's world shatters as he searches for the truth about the artifact, and the unexplained phenomena that seems to come from it. And he's not the only one who will do almost anything to possess the power that appears to surround the chair.
*Not every person made it to the discussion and some of them said they found it hard to get into, but liked it once they got going. One said, it simply wasn't her cup of tea.
Discussion was great and I recommend, along with a lot of other ladies, The Chair as one of your reads, eve if it seems far fetched, hey, it's fiction but the theme and the hope…well, that's very real.
For November we're reading Amish fiction. I figure Thanksgiving, bonnets…you know. We voted on A Stranger's Wish by Gayle Roper.
I'm looking forward to it as it's my very first Amish book to read. Ever! I'm branching out!
Happy Halloween! Will you be trick-or-treating tonight, Trunk-or-Treating, Fall festival-ing it? What's your favorite Halloween candy?