For the past two weeks I've been downing books like shots, trying to read everything I can think of in the inspy romantic suspense/mystery market. I may have missed a few so if you know of anyone else, please leave me a comment!
I've enjoyed all of them. Each author has a unique writing style. Some books  a little darker than others, which I personally prefer as a reader. I went into reading them with a writer's eye, but some of the books swept me up, I stopped looking for pacing, scene set ups, etc…I simply became immersed in the stories. Which is good! 
Below are the books I've read and I'm starting with my favorite(the rest are in random order), even though I enjoyed all of them. All great authors. Something about this particular story grabbed me and held on. Probably because of the darkness of the story line and the abundance of romantic tension.  Here is the 2nd book in Lynette Eason's Women of Justice series.
Twelve years ago, forensic anthropologist Jamie Cash survived a brutal kidnapping, torture, and rape. After years of therapy, she has made a life for herself–though one that is haunted by memories of her terrifying past. She finally lets herself get close to a man, FBI agent Dakota Richards, when signs start appearing that point to one frightening fact–her attacker is back and ready to finish the job he started all those year ago. Can she escape his grasp a second time? And will she ever be able to let down her guard enough to find true love? 
 The next book I thought was good, very dark story line, but no romance–which is probably why I liked Lynette's book better is
The BoneMan's Daughters
by
Ted Dekker
. What I love about Dekker is his subtle symbolism. I caught onto quickly, as most Christians would, and I thought the ending was perfect, but I read some reviews–mostly by non-Christians and they didn't like the way it ended. BUT I think it's because they didn't catch the symbolism. How could they? 
I wasn't terrified like when reading a Gerritsen novel (Rizzoli & Isles) but it was creepy at times and I like creepy. Mostly I loved the symbolism. And of course, Dekker's reason for writing the book. I encourage readers to read the "letter to readers" at the end of the book. It made me cry.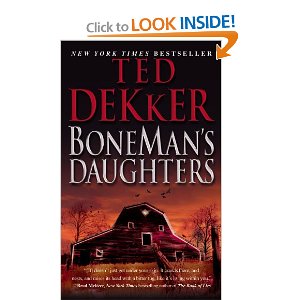 They call him BoneMan, a serial killer who's abducted six young women. He's the perfect father looking for the perfect daughter, and when his victims fail to meet his lofty expectations, he kills them by breaking their bones and leaving them to die. 
Intelligence officer Ryan Evans, on the other hand, has lost all hope of ever being the perfect father. His daughter and wife have written him out of their lives.
Everything changes when BoneMan takes Ryan's estranged daughter, Bethany, as his seventh victim. Ryan goes after BoneMan on his own.
But the FBI sees it differently. New evidence points to the suspicion that Ryan is BoneMan. Now the hunter is the hunted, and in the end, only one father will stand. 
The next book was a new author for me:
Irene Hannon
. Many of you may have read her Heroes of Quantico series, but I had never heard of her. Sad on my part, I'm sure. Irene has really researched her stuff and is very detailed. Her romance is fun and I enjoy the banter between friends on the HRT (Hostage Rescue Team) For sake of space only, (I've read 2 book in the series so far) I'll put my favorite one to date.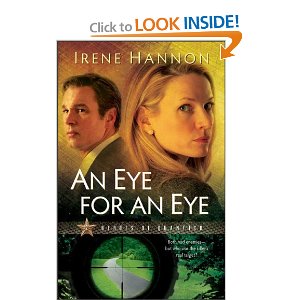 After he accidentally shoots a teenager at a tense standoff, FBI Hostage Rescue Team member Mark Sanders is sent to St. Louis to work as a field agent and get his bearings while the bad press starts to settle. Just weeks away from returning to Quantico to resume his work on the HRT, Mark has a chance encounter with an old flame, Emily Lawson. But their reunion is cut short by a sniper. Now Mark must find the shooter before he tries to strike again. But what is his motive–and who was his intended target? Can Mark put the pieces together, keep Emily safe, and rekindle a long-dead relationship at the same time? A fast-paced tale of romance, suspense, and intrigue, An Eye for an Eye is the exciting second installment in the Heroes of Quantico series.
And of course it wouldn't be right not to read
Dee Henderson
. I've read her O'Malley series and enjoyed all of them, but I haven't read all of her Uncommon Heroes series. Dee Henderson has a nice blend of romance and suspense. Her stories aren't creepy or dark, but I love the way she constructs deep characters. I haven't met one of them I don't like (unless I'm not supposed to like them). Here's the book I read in the past couple weeks: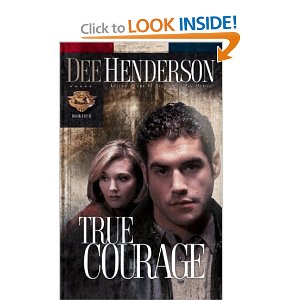 Dee Henderson wraps up her Christy Award-winning Uncommon Heroes series with a riveting story from the home front. When someone snatches his cousin's wife and son, FBI agent Luke Falcon hunts the kidnapper. He has never worked a case involving family, and it's tempting to let his hardened exterior weaken, given the circumstances. But he has to be strong if he's going to bring them home. When the ransom delivery doesn't go down as planned and the bodies start piling up, so does Luke's frustration. He fears that innocent people may not survive this crisis, and neither will his relationship with Caroline Lane . But her rock-solid faith proves to be a far better shelter in the storm than all his law enforcement training and experience.
I've read
DiAnn Mills
, and am reading
Breach of Trust
at the moment. I've already read,
Attracted to Fire
and did a review here. I've read a couple of
Robin Carroll's
books. I did a review on
Deliver Us from Evil
here. I have the other in her evil series in my TBR pile. I like both of these authors as well.
So tell me…who am I missing? Have I tapped the inspy romantic suspense and mystery market? Is there someone out there writing about FBI/evil killers with a heap of romance that I simply haven't found yet? And of course, have you read any books by these authors?