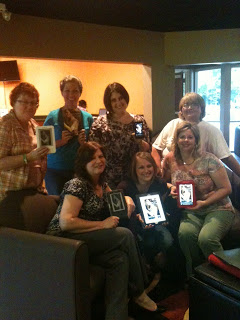 It all began at McAllister's Deli to support our Haiti Missions Team! A fundraiser. Who doesn't love to eat to help support missions?
Afterwards we headed back to our Cornerstone Church cafe for assorted teas, scones, and chocolate cake bites! You can't discuss a young woman's debut into society without tea and scones. Uh, no…you can't.
This book was an eye-opener to the times of a young lady trying to find a husband, learning all the rules of etiquette and socializing and fitting in.
Here are some of the comments made:
"Can you imagine having to sleep in a corset? I'd cut that thing off in a heartbeat!"
"I despised the aunt! How vain!"
"I don't know that society today is less vain than the Victorian women, but I think we go about it in a different way. Both ways are equally sad."
"I loved learning about the Victorian era and how the young women debuted."
"I got tired of all the debut season. I skipped pages. I thought it went too slow."
"I loved the romance and how it ended. I thought it was perfect."
"I thought the ending was contrived."
"The theme of God loving us the way we are needed to be said."
"I'd have never made it in that day. Not if a 30 inch waist was considered overweight!"
Overall most everyone really enjoyed the book. The average rating from 1-5 was a 3.5!
After we discussed the book, we took a look at an online exhibition of 119 incredible works by two masters of the haute couture, Charles Frederick Worth 1825-1895 and Mainbocher 1891-1976. It was so much fun! We laughed, ooohed, aaahed, made fun of…made fun of some more…and laughed again. It was a fabulous book club!
Here's the link to the online exhibition! It's worth a look just to see what they wore. Some dresses the women had to be sewn into! I know!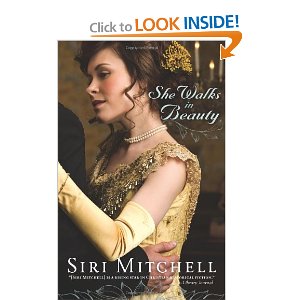 For a young society
woman seeking a favorable marriage in the late 1890s, so much depends on her
social season debut. Clara Carter has been given one goal: secure the
affections of the city's most eligible bachelor. Debuting means plenty of
work–there are corsets to be fitted, dances to master, manners to perfect. Her
training soon pays off, however, as celebrity's spotlight turns Clara into a
society-page darling.
Yet Clara wonders if
this is the life she really wants, especially when she learns her best friend
has also set her sights on Franklin De Vries. When a man appears who seems to
love her simply for who she is, and gossip backlash turns ugly, Clara realizes
it's not just her heart at stake–the future of her family depends on how she
plays the game.
I'm taking a blogging break this rest of this week and I'll be back on Monday, May 14th with special guest, author Amy Clipston! I'll be around facebook and twitter, not completely out of pocket!
Today answer the question:
If you had $1000 to spend frivolously, what would you buy and why?