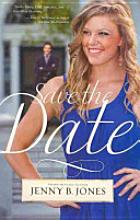 I'm not sure if it was the fresh baked chocolate cobbler or heart-shaped pumpkin, chocolate chip muffins, or the chocolate cake with drizzled chocolate icing that threw me off or the heavenly aroma of coffee, but I forgot to get a picture of our Faith Readers book club group–and we had a brand new member!
For the month of February, we read the romantic comedy, Save the Date by Jenny B. Jones.
It was pretty funny as we sat around eating dessert and sipping coffee because no one had tons to say. Why? We were all in agreement! For once!
Here's some of the things that were said:
"I didn't want to read this book. I'm not a fan of romance, but a few pages in, I was like, 'hey, this book is really good'."
"I thought the comedy and the romance was a perfect blend."
"My favorite part of the whole book? She was a size ten!"
We talked about who we pictured playing the part in a movie, because this book could most definitely be right up there with some of the best romantic comedies.
No one thought the girl on the cover fit their profile of Lucy, the main character, but after a long discussion and a second…or third piece of cake, it was agreed if Kate Hudson put on about 30 pounds she could play Lucy.
Some more thoughts:
"I loved the scene when she was took off down the sidewalk in her pajamas and he drove along beside her."
"I loved the prayer with the new quirky Christians, "like a gold card, Lord, like a gold card!"
Serious Thoughts:
"I loved when the Youth Pastor had the teenagers nail lies the enemy had been telling them to the cross. I think that's a great idea. Lucy had been believing lies so long too."
"I don't know how I'd feel if I found out a lie about my family."
We talked about forgiveness, lies the enemy tells us about who we are and what we can't do.
It wasn't a simple, light-hearted read. The theme was deep, at times a tear-jerker, but the mix of relevant humor and fun gave us breathing room and things to laugh out loud about. Literally laugh out loud.
Out of 5 stars, we rated it a 4!
Here's a peek:

Jenny B. Jones
"You are cordially invited to the wedding of the year with the most unlikely bride and groom. Save the date…and say your prayers. When funding for Lucy's non-profit job is pulled, she is determined to find out why. Enter Alex Sinclair Enterprises–the primary donor to Lucy's non-profit organizaiton. Both Lucy and Alex have something the other desperately wants. Alex has it all…except for the votes he needs to win his bid for Congress. Despite their mutual dislike, Alex makes Lucy a proposition: pose as his fiancee in return for the money she desperately needs. Bound to a man who isn't quite what he seems, Lucy finds her heart–and her future–on the line. Save the Date is a spunky romance that will have readers laughing out loud as this dubious pair try to save their careers, their dreams…and maybe even a date. "
If your life were a movie, what kind would it be? Drama, action-adventure, romantic comedy, B movie? LOL Can't wait to hear these answers!