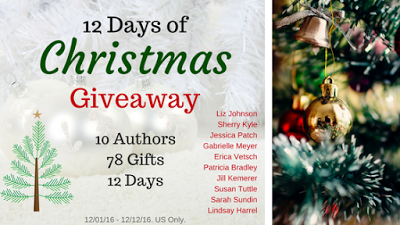 …this author gave to me…
10 copies of Concealed Identity!


And 10 adorbs Christmas ornaments but that didn't rhyme so…
I am so excited to be a part of the 12 Days of Christmas! Just look at the graphic to see how amazing it is! Each day a new author will be giving away a fun prize (books included) and YOU could win! All you have to do is enter the giveaway below!


My newest book has some Christmas elements in it. For example, my heroine, Blair Sullivan is obsessed with Christmas (she has reasons) and that's why she's named her antique store It's a Wonderful Life. She even has a bell above the door so an angel can get its wings (like, she knows this isn't real, it's nostalgia) and her sweet little shop that's set in the quaint and quirky small town of Hope, TN is decorated like Christmas 24/7. Yeah, my hero, Holt finds it weird but as he gets to know Blair and falls in love with her, he discovers it's rather endearing.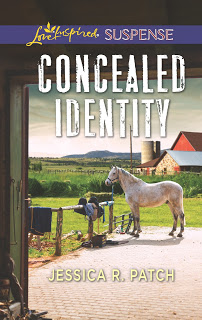 DEEP-COVER ASSIGNMENT
After Holt McKnight's criminal informant disappears, the DEA agent must go undercover to get close to the missing man's sister, who may know more than she's letting on. But when Blair Sullivan's attacked, it's up to him to protect her—without blowing his cover. Blair isn't sure she can trust her new neighbor, Holt. After all, the last charming and handsome man she fell for was her late husband, and he turned out to be the brother of a ruthless drug lord. Yet when it's clear the target on her back is somehow linked to her past, she has no choice but to accept Holt's protection. Even if getting close is the last thing her scarred heart can handle.
Tomorrow, you'll have a chance to enter again (enter each day if you want!) to receive Gabrielle Meyer's, A Family Arrangement! CLICK HERE to go to her website.
Have you missed the chance to enter to win on Day 1 or Day 2? Well, here you go! Go enter!


DAY 1 Win Hazardous Holiday by Liz Johnson
DAY 2 Win Watercolor Dreams audio book (digital download) by Sherry Kyle
Do you have a favorite Christmas ornament? If so, share in the comments. If not, tell me your favorite Christmas song or carol!
Okay, now enter to win!
a Rafflecopter giveaway