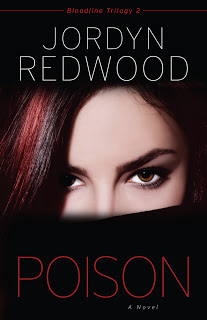 I haven't posted a
group review in awhile. Not because we've hated the books, just…I don't know.
Point is, we're here today.
In March we read,
Poison by Jordyn Redwood. She wrote a really cool post on poisons, and I admit
that I never want to be on her bad side, as she knows way to many creepy ways
to kill me. 🙂 You can read it
HERE!
We met in the café
with coffee and Jan Kerley's fabulous sugar cream pie. Now ya'll say that real
southern like. It was bite after bite of deliciousness and it went super well
with the fudge pie Gayle Adams brought. We chatted about life, the book and then
we Skyped with the fabulous, Jordyn Redwood.
She was super nice
and answered all of our questions. She even shared some real life experiences
that inspired some of her suspenseful and medical scenes. We all enjoyed that.
And she was ready with some fun questions of her own! What was our favorite scene?
What scene would we like to erase from the book? Which characters did we like
most and why?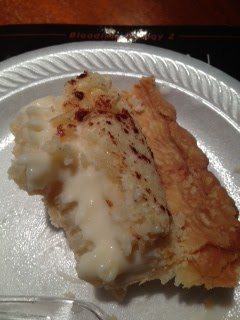 It was so good, I didn't think to
take a photo till it was half gone!
Sugah Creem Pah!
Like a Snicker Doodle topping over
a vanilla-like custard center.
It was thirty
minutes of laughs and fun. We wish Jordyn could have had some of that pie–we
even discussed it with her!
So here are some
things the ladies had to say: (I don't think
there are any SPOILERS!)
"I loved the
book! It kept me up reading all night."
"I felt like
creepy crawlies were on me while I slept!"
"I liked seeing
some of the characters from her first book show up in the story, but I felt
like if I hadn't read the first book, I'd still be okay."
"I had to skim
a lot of it because I have a terrible fear of spiders. If it wasn't a book club
read, I may have put it down just for that reason."
"I thought
everything was resolved but one thing and I'd like to know who caused that
problem." (I adapted this statement to keep spoilers out.)
RATING:
Out
of 5 stars.
5
stars
Five years ago,
Keelyn Blake's armed, mentally ill stepfather took her family hostage in their
house in rural Colorado. She and her half-sister Raven made it out alive, but
others did not. Authorities blamed the father's frequent hallucinations about a
being named Lucent, but in the end, even the best of the FBI's hostage
negotiators failed to overcome the man's delusions and end the standoff
peacefully.
Now, Lucent is back,
and he's no hallucination. In fact, he is a very real person with dangerous
motives. He has kidnapped Raven's daughter, and–Keelyn worries–maybe has hurt
Raven as well. Though she is estranged from her sister, Keelyn feels the immediate
need to find Raven and save what family she has left. But when others who were
involved in that fateful day start dying, some by mysterious circumstances,
Keelyn wonders if she can emerge unscathed a second time.
Let's go out on Friday all creepy-like! Since Jordyn's book
had poison and guns… Would you rather die by a poison or a gunshot
wound? I know I said creepy! Just answer
it!
*I say gunshot. I'd
bleed out faster and maybe even go unconscious. I don't want to writhe in pain
due to some kind of poison messing with my nervous system.