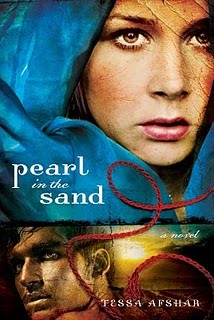 The story of Rahab is a fascinating story in the Bible, full of faith, hope, and happily ever after. It's also a beautiful picture of God's saving grace and a testimony to all that He doesn't care about our past. He can use anyone for His glory. I love this story. Don't you? There's so much to unpack.
For the month of March, we chose Biblical fiction. The book: Pearl in the Sand by Tessa Afshar. Here's a peek:
"Can a Canaanite harlot who has made her livelihood by looking desirable to men make a fitting wife for one of the leaders of Israel' Shockingly, the Bible's answer is yes. Pearl in the Sand tells Rahab's untold story. Rahab lives in a wall; her house is built into the defensive walls of the City of Jericho. Other walls surround her as well–walls of fear, rejection, and unworthiness. A woman with a wrecked past; a man of success, of faith…of pride. A marriage only God would conceive! Through the heartaches of a stormy relationship, Rahab and Salmone learn the true source of one another's worth and find healing in God."
Mixed feelings arose about this book. Here are some of everyone's thoughts.
"It stayed on point and accurate to Biblical history."
"I could identify with Rahab wanting her father's love. Everyone wants to feel safe and loved."
"I was grabbed from the beginning. I laughed and cried."
"I like to read to escape and this was an easy, quick read. I enjoyed it."
"I didn't like this book at all. The author rushed through the beginning and never really engaged me. I didn't have any emotions for Rahab, so I didn't care as much when she became a prostitute."
"The author used phrases and words that were not around during that time. I seriously doubt Salmone would look at a tired Rahab and say, 'You look spent.' This happened several different times–using modern phrases and words. And she thought the water was cold as 'ice' which they didn't have then."
"I thought it was more of a told story. I never felt like the character going through the events."
"I thought the author said some really good things about life and any woman who's had a past, not necessarily as a prostitute, but a promiscuous past would benefit from reading this. There's a lot of healing in this book."
As you can see, not everyone agreed but that makes for great discussion! We also enjoyed the desserts and fruit with our coffee!
Overall rating out of 5 stars (it was literally divided down the middle between 4 stars and 2 stars): 3 star average
This won't be anyone's last Biblical fiction read, that's for sure. We're reading She Walks in Beauty for April!
Have you ever read Biblical fiction? What did you read? Do you like it or not? Why?