I'm thrilled to have Gabrielle Meyer with me today. Her real-life
romance will conclude our series, for now! I may do another month long series in
the future. We'll see. Gabrielle is a great lady and a fabulous writer—I've
read some of her work. I wouldn't lie to yah! Thanks for being here, Gabe! And
take it away!
I'm an old-fashioned kind of gal. So it's no surprise that I
write historical romance, or that I prefer to spend my free time in a museum.
It's also no surprise that I decided
early on that I would be Sweet Sixteen
and Never Been Kissed. I even had the courage to tell a boy this when
he asked to kiss me when I was fifteen! (Imagine the look on his face.)
The surprise came (at least for me) when I was Sweet Seventeen…and I'd still never been
kissed.
I was homeschooled from fifth grade through tenth. I loved
this experience, but it gave me little opportunity to find a boyfriend. At the
time, I lamented this fact. But now, after hearing so many horror stories from
friends who had terrible first kisses, I'm happy my options were limited.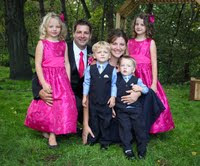 I met David Meyer when we were sixteen. I was still being
homeschooled, but I'd become friends with a great group of kids through youth
group. David happened to be among them.
From
the moment I saw him on stage singing in the production of Joseph and the Amazing Technicolor Dream Coat, I knew he was
something special…it just took me a little while to convince him
that I was something special, too. Almost a year!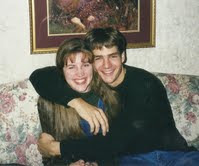 But when he finally decided I was the one for him we've
never looked back. I was seventeen when David kissed me for the first time, and
he's the only person I've ever kissed. I like that.
This summer we'll be celebrating twelve years of marriage,
but we've known each other for over sixteen. Through driver license exams, parental
curfews, wisdom teeth extractions, high school graduations, college, first
cars, first jobs and stepping out into the world, we've made many memories
together. I wouldn't want to walk through life with anyone else.
God has
blessed our union in more ways than I can count, but at the very top of the
list are our children. Eight years ago we had our first child, a
beautiful, imaginative daughter with green eyes and a sprinkle of freckles
across her nose. She was followed two years later by our second daughter, who
charms us with her dimples and blond hair. For five years our life was full of
little girls, but God had an even bigger surprise in store for us.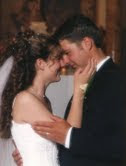 A set of twin boys! Now three years old, one is gentle and
kind with big blue eyes, while the other is bold and curious, with a mischievous
twinkle in his green eyes. To say we were surprised with twins would be an
understatement! Never, in my wildest dreams, could I have planned such a
perfect family.
Like I said, I'm an old-fashioned kind of gal. I believe my
greatest impact on this earth will be in my home, and I believe the most
important calling is to serve my family. Being a good wife and mother is the
hardest challenge of my life, but it's also the most rewarding.
Every day, through the good times and the bad, I'm in awe of
the God who has generously given us our hearts' desires and I pray that our stewardship of all He's given
us will be a blessing to Him for countless generations who follow.
I'm also tickled pink that my first love became my true love,
and my desire to wait for that first kiss was worth it.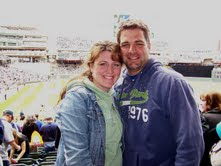 Okay,
where were you when the one you love kissed you for the first time? I was in a
park! 
Connect with