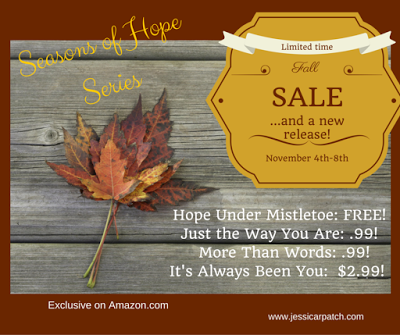 Hey everyone! It's fall. I love fall. It puts me in such a good mood that I'm sharing the love with you!
Today, November 4th through the 8th, the first three books in the Seasons of Hope series are dramatically discounted and the 4th book is releasing!
Hope Under Mistletoe (#1) is FREE and a great time to grab it since it centers around Christmas!
Just the Way You Are (#2) is only $.99!
More Than Words (#3) is also only $.99
It's Always Been You (#4) is the last book in this series, and just released in time to read them all over the holidays, is only $2.99. Less than coffee.
In fact, you can grab them all and still afford a coffee.
Happy Reading and Happy Fall, Ya'll!
Feel free to share it with friends, too.
Get the Seasons of Hope Series on AMAZON! Click HERE!!!!