A dime a dozen isn't just a phrase. 
When I was a kid growing up, I hated going to garage sales, it made me feel like I didn't have enough money to go to a real store. I know, I know. Sigh.
If my mom wanted to piddle in a yard looking for depression glass or other housewares, fine. But I wasn't going and if I had to, then I stayed in the car. Heaven forbid someone see me and think I was poor.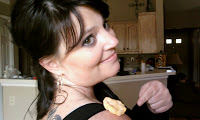 Ok, so it's a rice cake, but it'll do the job! Who
doesn't love Quaker's Cheddar rice cakes?
After I got married, I didn't think about thrift stores or yard sales too much. Mostly because I still had a chip on my shoulder.
Then I met "Jane." I've written stories and kept her anonymous, but she's said she's over it and I can call her by her real name. I choose not to. I like "Jane." She can get her own blog. Get your own blog, Jane. To read some of our hair-raising adventures, click here, or here, or here for just a few of them!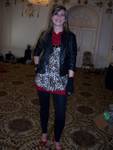 "Jane" always looks
like this. All thrifty
shopping.
 I prefer PJ's.
Jane looks like a fashion model all the time. She doesn't have much of anything that isn't designer and that includes shoes, purses, and jewelry. Every time I asked her where she found an outfit, she said, "Goodwill!"
Goodwill? Did I hear her say that correctly? You look like that because of thrift stores?
"You wanna come with me?"
"To Goodwill?"
"I said it clearly."
So I made a day of it with her.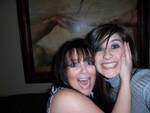 You want me to dig through
clothes at thrift stores!?
WHOAH!
I walked out with several pair of jeans all of which would cost over $100 a piece in the store for $20 total! I washed them and man, I've had tons of compliments. I have tons of shirts, dresses, even shoes (I clean them up really well and they have to be in fabulous shape) but I draw the line at undergarments and swimsuits. Some things just don't need to be shared!
I've been making lots of days of it with her now. It's too much fun!
The Goodwill outlet is a chore because you have to dig, but you can get a pound of clothing for $1.49. My daughter stays in Aeropostle, American Eagle, Abercrombie, and Banana Republic thanks to thrift stores!
I look back and think, how silly was I? I'm wearing top brand clothing and paying 1/3 (I don't do math–that's why I write and none of my characters are mathmeticians–so it could be even less) of the price. Today I bought the cutest dress with the tags still on it. I probably ate the chip on my shoulder, especially if it was nacho cheese flavored. Either way, it's gone, I'm glad, and I have extra money in my pocket to spend elsewhere.
If you've never thrift shopped but want to, here are 3 things you need to know:
1. For Goodwill outlets, bring latex gloves to dig. (You don't have to, I like to.)
2. Bring hand sanitizer for when you're done. (I like GermX green apple)
3. Wear comfortable shoes. We can spend hours at a time in one store–on concrete floors.
What about you? Do you like to shop thrifty and if so, what's your greatest find? If you don't…is it cuz you have a rice cake on your shoulder? 🙂
Have a great weekend! See you Monday!