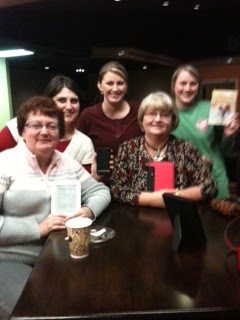 Laughter, the smell of coffee brewing, a hint of chocolate in the air, and a mystery cake! What a great way to start off the new year with the Faith Readers women's book club. Debra teased us on the facebook page and offered up a prize if we could guess what she was bringing. The hint: It's from the book.
No one guessed it. 🙁 BUT…we still got to eat it! Hummingbird cake! Yummo and she even told us the story behind the Hummingbird cake.
Our December pick was The Christmas Note by Donna VanLiere. Many of her books can be found as Lifetime TV movies. After reading this book, we know why! It was made for a warm, fuzzy holiday flick.
It's the kind of book you can cozy up on the couch with a quilt, a cup of coffee, hot tea, or cocoa and smile.
As we discussed the book, some of the comments were comical, some serious, others insightful. Here are a few:
Could you identify with any of the characters?
"I could identify with the mom. She was a good mother, but she wasn't Suzie Homemaker. They had cookies, but they were slice and bake. I can handle that."
"I could sort of relate to Gretchen, but I don't know if I could be as nice as she was when Melissa kept acting so rude. In fact, that would be the point I told the kids, 'We don't talk to the neighbors keep moving.'"
What character did you least identify with?


"Melissa because she came from such an abusive background. My heart broke for her."
"Gloria, the mom's friend. She was kind of out there. I'm not sure anyone acts like that."
A few shook their heads. "No, we know people like that."
What theme did you take away from the book?


"God's hand is at work no matter happens in your life."
"Sometimes you have to look back to see where God was."
"I think she got her point across, but she overdid it. I mean one or two coincidences are fine. But every time you turned a page it was a new one. Not believable."
"Yeah, that was ridiculous."
*Note to writers: Pay attention to these reviews! They aren't from writers who joined a book club; they're die-hard readers and they know what they like. I make notes every month! Don't put too many coincidences in your work! And by the way, they're totally right! There were waaaaay too many!
Our rating out of 1-5:
3 1/2 stars


Our next book for the month of February is in the romance category. We've voted on Save the Date by Jenny B. Jones.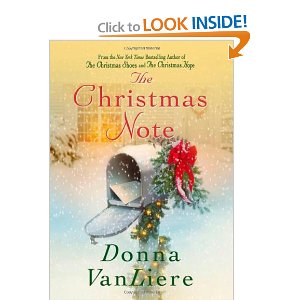 "Gretchen Daniels has recently moved into a condo with her two children to be closer to her mother, Miriam. As they build a life together in their new community, they notice a mysterious young woman, Melissa McCreary, who lives next door. She has few possessions, little personality, and keeps to herself. One day a local landlord who is looking for Melissa knocks on Gretchen's door for assistance. Melissa's mother has died and in the coming weeks the landlord needs Melissa to empty her mother's apartment. Gretchen reaches out and offers to help Melissa, but the apartment is a gut-wrenching shamble of a home. There is little worth saving except for a few photos and a note that is discovered on the crate beside the bed. It is unfinished, but in the two scribbled lines, Melissa discovers secrets about her family that she never could have imagined. Can two very different women embark on a journey that explores a long-buried need for forgiveness, hope, and redemption?"
Have you ever read a Christmas novel? Any favorites?