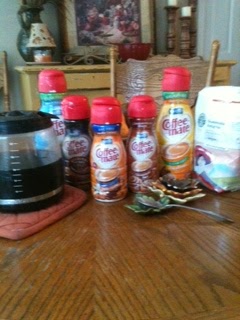 I admit it. I like to drink. Coffee. I wouldn't say I'm a coffee connoisseurer, but I am a creamer lush. Creamer is my crack.
Right now these are the flavors that beckon me from the fridge.
Cinnamon bun
Hazelnut
French vanilla
Vanilla Caramel
Belgium Chocolate Toffee
All of these are, of course, from Coffee-mate.
I don't slum it with International Delight.
But my favorite time of this fall season, is the holiday line creamers. Oldies I look forward to and new ones that tease me.
I. Must. Have.


To get the holiday creamers I want, I'll punch a kid in the nose, bash an elderly lady, trip a pregnant mom, and flirt with the guy that drives the cleaning Zamboni, if he'll get me what I want.
I've been known to drop the butter, spill the soy, dump the 2% to create a diversion if the last Pumpkin latte creamer is on the line.
Here are my two favorites so far.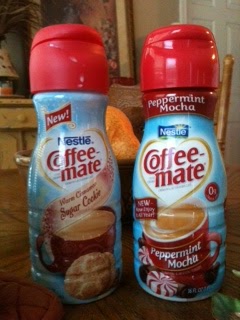 I actually have 3 of the warm
cinnamon sugar cookies.
The new warm cinnamon sugar cookie is so good, I could snuggle up to it at night, if DH would make a little room in the bed, geez, selfish much? In fact, it's so good, I might hook an IV line to my arm with it. Or marry it, if I could get away with it.
And of course, since we're going into November. I'll cherish my coffee and crack creamer in my holiday mug.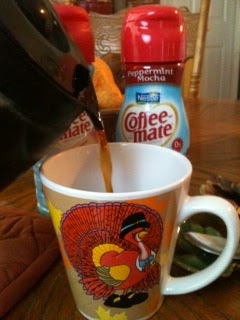 And when the holidays are over, I'll be singing this song:
What say you, friend?
What's your holiday crack creamer of choice?
*I really don't trip pregnant women ,punch kids, or hurt the elderly. Flirting with the Zamboni cleaning guy…possible.