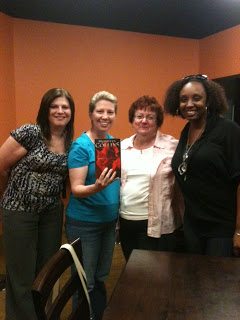 I let it slip by. I guess I've been busy. Whatever. Point is, I haven't posted our book club's review of Gone to Ground by Brandilyn Collins. Brandilyn writes Seatbelt Suspense and she's one of my favorite authors in Christian writing.
Vacations, night school and various other obligations kept many of our ladies from attending, but they did read the book. We kicked off conversation with brownies–an assortment. Turtle, chocolate chip, white icing and brownie bites. It was only fitting since Cherrie May, one of the southern characters ate them with the victim before the police found her dead! Dun, dun, dun!
We chose this book and by us, I mean the ladies. I choose the genre and give about 5 selections, then I sit back and watch them duke it out on which one to read. Kidding. They don't duke it out…much. And when the picks all seem good to the ladies, they just download the others on their Kindles anyway!
Here's a few things that were said: NO SPOILER ALERTS!!!


"I liked that she set it in Mississippi. I think she portrayed a small southern town well." (Uh, we live in MS near Memphis)


"I thought using three women in first person was a little confusing at first."


"I did too, but then once I figured out who was who, it didn't bother me anymore."


"I thought the twists were great and I had no idea who the killer was!"


"Me either!"


"I did." (that was me btw)


"I thought the way she unfolded everything was well done. I hate books that at the end, the killer tells how he did everything. Who would do that? I mean a sprinkle of something maybe, but to basically tell the whole thing, uh, that's the author not able to write a good story." (Take notes, writers. Readers want organic story, not the villain telling it all at the end.)


"I didn't care for the written dialect. I could figure out how she talked after the author described her. That just irritated me."


"I loved her descriptions and I was into the story from page one."


"I let my mom read it and she devoured it in a night."


"I'd like to read more of her books."


Rating: 1-5 stars. 4!


Here's a peek at Gone to Ground:
Amaryllis, Mississippi is a scrappy little town of strong backbone and southern hospitality. A brick-paved Main Street, a park, and a legendary ghost in the local cemetery are all part of its heritage. Everybody knows everybody in Amaryllis, and gossip wafts on the breeze. Its people are friendly, its families tight. On the surface Amaryllis seems much like the flower for which it's named–bright and fragrant. But the Amaryllis flower is poison.
In the past three
years five unsolved murders have occurred within the town. All the victims were
women, and all were killed in similar fashion in their own homes. And just two
nights ago—a sixth murder.
Clearly a killer
lives among the good citizens of Amaryllis. And now three terrified women are
sure they know who he is—someone they love. None is aware of the others'
suspicions. And each must make the heartrending choice to bring the killer
down. But each woman suspects a different man.


Our next genre was Medical Thrillers and the ladies chose, Code Triage by Candace Calvert. (I've finished it already!)


I talked about my crazy dog the other day at Lisa Jordan's blog. Due to what happened, we had her groomed. I asked the people to cut her like a Schnauzer. OMG. I came home and my husband said, "Hey, what's with the old Japanese Kung fu do?"


"What?"


Yeah…this is what they did to my dog! But I didn't take her back and demand they fix her because after what she did to me, she has the grandpa beard coming. Punishment.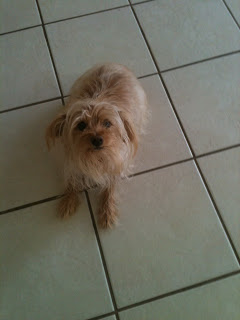 Before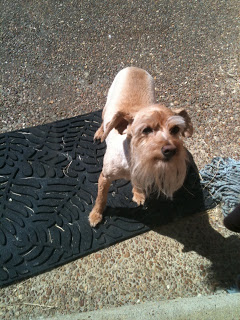 After LOL!!!!
Everybody Wang Chung
tonight! Oh wait,
they can't because…
Everybody was Kung
Fu Fighting!
Go read the story…you'll understand!




Do you read suspense? Why or why not? Also, what do you think of my dog? LOL!