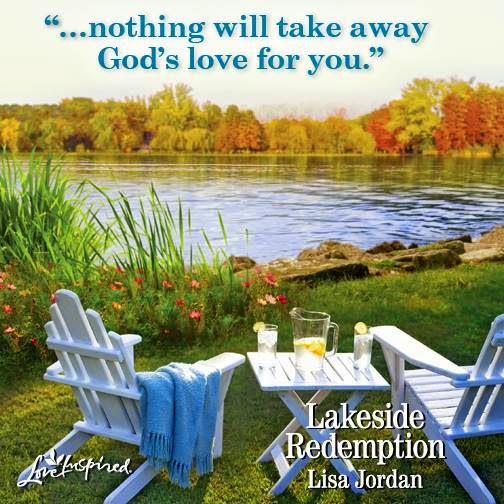 Do you believe this? I do. What a beautiful quote from my friend Lisa Jordan's newest release, Lakeside Redemption.
"Can a woman
forget her nursing child,

And not have compassion on the
son of her womb?

Surely they may forget,Yet I will not forget you.

See, I have inscribed you on the palms of
My hands;…" Isaiah 49:15-16 NKJV
God's love for us is intense. So intense that He's carved our names into His palms. He can't uncarve them. He doesn't forget us, even when we feel like He has.
"So,
what do you think? With God on our side like this, how can we lose? If God
didn't hesitate to put everything on the line for us, embracing our condition
and exposing himself to the worst by sending his own Son, is there anything
else he wouldn't gladly and freely do for us? And who would dare tangle with
God by messing with one of God's chosen? Who would dare even to point a finger?
The One who died for us—who was raised to life for us!—is in the presence of
God at this very moment sticking up for us. Do you think anyone is going to be
able to drive a wedge between us and Christ's love for us? There is no way! Not
trouble, not hard times, not hatred, not hunger, not homelessness, not bullying
threats, not backstabbing, not even the worst sins listed in Scripture:
They
kill us in cold blood because they hate you.
We're sitting ducks; they pick us off one by one.
None of
this fazes us because Jesus loves us. I'm absolutely convinced that
nothing—nothing living or dead, angelic or demonic, today or tomorrow, high or
low, thinkable or unthinkable—absolutely nothing can get
between us and God's love because of the way that Jesus our Master has embraced
us." Romans 8:36-39 MSG
Nothing can keep us from God's love. What I love so much about fiction is while the characters and even the setting might be pretend, the message is truth. It's hope. It's grace. And it can help us see God in a way we didn't before! So I encourage you to pick up Lisa's book either online or any in bookstore (they'll only be in paperback on shelves this month then you'll have to order it as an ebook or a paperback online).
Here's a peek!
Zoe James is starting over. She's worked hard to get past
the foolish mistakes that landed her in trouble four years ago. Now the young
mom is back in Shelby Lake and ready to reconnect with her son. When she bumps
into old friend Caleb Sullivan and his two adorable girls, she sees the
possibility of a happy future. Caleb has always secretly loved Zoe, but her
turbulent past brings up tough memories of his own. As they spend time together
training his girls' new puppy, Zoe and Caleb will learn that if they can
forgive themselves, they might have a chance at a new life— and new
love—together.
If you were sitting in one of those chairs on the cover of the book, who would you be sitting next to and what would you be chatting about?