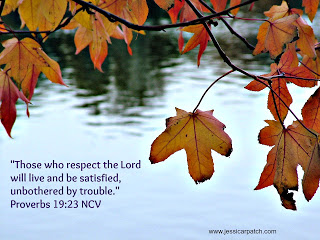 Today's meditation
and musing comes from Proverbs 19:23. Here it is in a few other versions.
"The fear of the Lord leads to life;
then one
rests content, untouched by trouble." NIV
"The fear of the Lord leads to life,
and
whoever has it rests satisfied;
he
will not be visited by harm." ESV (English Standard Version)
"The fear of the Lord leads to
life,
And he who has it will abide in satisfaction;
He will
not be visited with evil." NKJV
We'll unpack this
interesting scripture on Wednesday. The key question: If we will not be visited
with evil or harm, then why does evil and harm happen to us? Hmmm…. Yep, there
is an answer and we'll discover it in our study.
Musing/Meditation prompts: Reflect and ask yourself what fearing the
Lord means to you? How can this lead to life? If I feared (had a deep awesome,
revering respect) the Lord how would my life look differently? Contentment to
me is….? How does my version of contentment line up with what scriptures says
about contentment? Remember when God satisfied you during evil and/or
frightening times. Give Him praise for those occasions.
What
does the perfect restful
day look like to you?
Here's mine: I would
sleep in (you know till like 8:30 lol) and my back wouldn't hurt from being in
the bed too long. Coffee would already be brewed. I'd spend some time in my
Bible and chatting with the Lord then my
husband would fix a big calorie-killer breakfast. Yes, it would involve bacon.
The house would be dust and clutter free. Candles lit. I'd read on my hammock
(since the day would be a perfect 70 degrees with sunshine and a light breeze).
Take a nap if I wanted. Write. No fussing or questions from children. My dog
wouldn't have fleas or poop on my tile. And the Lord would be so close I could
breathe Him in. Then I'd take a hot bath, put on fresh PJs, climb in bed and
read the Word before going to bed. Perfect restful day!
**Feel free to pin the photo to your Pinterest board! If I knew how to put a "pin it" button on my blog, I would! If you know how, email me. jrpatch(at)yahoo(dot)com