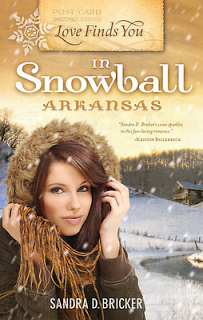 A first time for all us, reading a Love Finds You line. But we chose Sandra D. Bricker's Love Finds You in Snowball, Arkansas!
I made a Bavarian cream butter braid, well I at least let it rise and baked it. I can't even braid my own hair, like I could do it with dough?
I was thinking about bringing those Snowball desserts by Little Debbie, but I hate marshmallow. I'm not wasting money on it for joke factor. Just sayin.
I also forgot to take our picture. But we had a good turnout and an array of opinion on this book. Here's how it all went down…
"I was hooked from the first page. I laughed on the second paragraph."
"I didn't like the book at all. I thought the antics, and the fact the red-haired character named LUCY was a bit cliche and too much."
"I thought the plot was predictable, but then it's a Love Finds You so you know it's going to be a HEA. But the dialogue and humor carried the predictability."
"I took away that God has things right in front of us for our blessing, but many times we overlook them for things we think we want."
"I didn't even realize that message. Good eyes! And so true."
"I don't think she acted like a woman pushing thirty. Not in the journal entries, especially."
"I liked the whole thing. I read for escape and this book was perfect to settle in with and just live someone else's fun life. I try not to read into books. I just want an escape."
"I think I laughed on every page. It could be a romantic comedy on the big screen. I'd go see it."
"My only disappointment? She had ripe opportunity to say the phrase, 'Not a snowball's chance in…Arkansas.' and she didn't!" (that was me btw) lol
"I'll read more of her stuff."
Star rating 1-5: 3 1/2
Here's a sneak peek at Love Finds You in Snowball, Arkansas:
So what if she can't
hook a fish? This city girl has a plan to snag something else…and his name is
Justin.
Lucy Binoche is
reasonably attractive, intelligent, and fit. She has French lineage and
better-than-average hair. So why is she nearly 30 and still single?
Justin
Gerard is the rugged hottie new to her church's singles group. When he signs up
for a camping trip in the Ozarks, Lucy loses no time writing her name on the
line beneath his. Theres only one problem Lucy's idea of "roughing
it" is suffering through a long line at Starbucks. She assumes she can
rely on the grace of God and the assistance of her friend to get through.
But at
the campsite in Snowball, Arkansas, Lucy bungles everything she attempts as she
tries to impress Justin. She can't fish, hike, or ride a horse; caves make her
hyperventilate; and hot-air balloons make her ill. Soon, events are snowballing
out of control. Will Lucy pretend to be someone shes not just to snag a
boyfriend? Or will she discover someone who loves her just as she is?
Do you like reading romantic comedy? Ever read Sandra Bricker? Do you eat those nasty snowball treats?