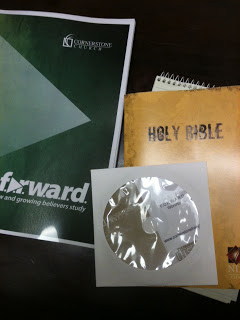 Everyone gets their study, CD, Bible,
steno pad, and a pen. All set!
I wouldn't say I'm ungrateful. I could say, I don't think about being grateful. I'm a take-it-for-granted kind of person at times. I suppose we all are.
Lately, I've been acutely aware of how blessed I am. I wrote a blog post titled FORWARD several weeks ago. You can read it and see all the cool pictures HERE! I talked about letting hurts go. How I had to let some of mine go and when I did, God opened up an amazing opportunity for me at my church.
The last few months, while still working on my novels and getting them off to critique partners, I've been writing a study for new and growing believers. If you've been around the last couple of months, here or on fb, you know this. (Plug: Please stop by and "like" my facebook page. You can click "like" on the sidebar right here on my site!)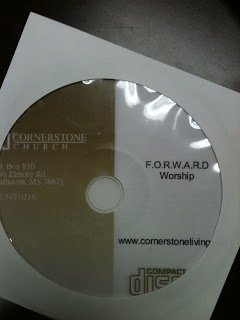 The week before I went on vacation, my BFF "Jane", and I printed the studies, coversheets, bound them and then burned and labeled CDs. Yep, I made a mixed tape (giggle) for my class. One or two worship songs that go along with the chapters of study I wrote.
As Jane handed me the books and I bound them, we listened to the CD. And in the middle of it God, with a powerful force, stopped me in my tracks.
BAM!
And this is what I heard inside me.
"This will be the first Bible study most of these people have ever done. And they're your words. My words. Our words."
The weight of that overwhelmed me like a tidal wave. At that moment it was like the song says, "If grace is an ocean we're all sinking…"
I looked at "Jane" and she stopped gathering books and stared at me. I couldn't even speak what I'd heard, the raw emotion had gathered in my throat and squeezed. But somehow she knew. And she cried with me. For me. Because of me.
I seriously doubt any of those people coming to this study will ever know the magnitude of gratefulness I feel or the love I have for them. I so desperately want to see them succeed to live a consistent Christian life. I want them to find the treasure of God's Word to see it vividly come alive in their hearts, in their minds, and in their lives (same in fiction). I know it's what "Jane" wants as well.
I doubt they will realize how blessed I am and will be to see them work through the pages of the study.
I don't deserve it. I'm grateful for the opportunity to be used.
And you know what?
I can honestly say, that while I've been writing fiction–I haven't been discontent. I haven't whined and wondered, "When Lord? How much longer will I have to wait to see our message, our stories in print?" (Because as an inspirational writer, I feel like God nudges me in the right direction and gives me ideas and words to say so they're mine and His–Ours.)
Tonight Jane and I will start our first class. We might have five, we might have 25. I'm not sure. We might have 1. Doesn't matter.
What matters is growing and maturing in God. Learning and living His Word. Knowing Him intimately. Using what He's given you to bless others. And whoever shows up in that class tonight has made their first step forward.
"I'm not saying that I have this all
together, that I have it made. But I am well on my way, reaching out for
Christ, who has so wondrously reached out for me. Friends, don't get me wrong:
By no means do I count myself an expert in all of this, but I've got my eye on
the goal, where God is beckoning us onward—to Jesus. I'm off and running, and
I'm not turning back." Philippians 3:12-14 MSG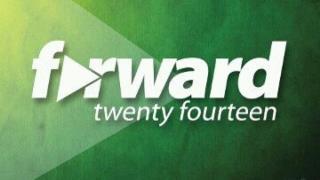 What have you been doing to bless others in your church, to move forward? What has someone done to bless you?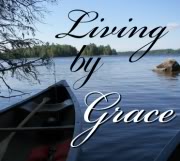 Join me over at Living By Grace on Facebook and encourage other women. Come be a blessing! (You can find and "Like" Living By Grace to sidebar of the site!)