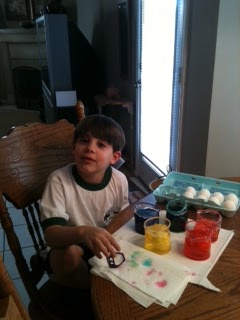 Myles dying eggs. Bailey said
she was too old this year. Waaah!
I hope everyone had a wonderful Easter holiday! My mom came to visit and dragged me all over town to shop. I'm not a shopper. In fact, I'd buy everything online if I could. But the kids did need spring clothes. They insist on growing. It's annoying.
We dyed eggs, took Myles to a Easter egg hunt at church, we made coconut cupcakes, and bought $30 worth of bread from an Italian bakery.
I almost took a blogging break just to spend extra time running it all off on the treadmill, but…I'd miss you! So, I'm not. I mean, I am going to be running, but not taking a break! I will be a little scarce though, because I have some heavy duty editing to work on this week.
So tell me the highlight of your weekend. Of course, celebrating our risen Savior was the BIGGEST. I woke up, came into the living room where my husband sat drinking coffee and reading his Bible, raised my hands in the air and shook them as I said, "Heeee's aliiiivve!" in my Frankenstein voice.
TP shook his head, but smirked and I said, "What? Jesus thinks it's funny. I already said it to Him. 'You're Aliiiivve!' Now where's my Easter basket?"
It was on my desk–on my laptop. Cadbury eggs, iTunes card, and a gift card to a Home store.
So I repeat: What was the highlight of your weekend?