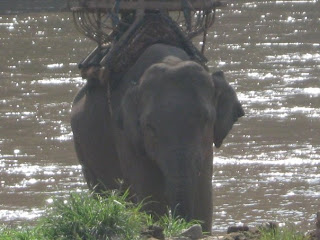 I rode this elephant in Burma (Myanmar) Yep. I did.
So it's very possible I've been watching too many Modern Family episodes. One of my favorites is when Cam calls his drink a Drink-a-doodle doo. I say that now. Apparently, it's carrying over to my post titles. Whatayagonnado?
I want to say thanks so much to Cathy over at Thoughts on Books for tagging me! Whoop! Go check her blog out. Click the red letters. RED LETTERS.
Here's the deal: I have to tell 11 random things about me, which I'm not since I already have 10 random things about me on another page (side bar) but…I'll post 1 random thing, yah know in honor of following the rules. Then I have to answer 11 questions and make up 11 new questions for the people I tag.
Everyone take a breath with me.
Random thing about me: I've literally scared the pee out of the SAME woman, TWICE! Once, at a lock-in (thought I was gonna say Band Camp didn't ya?) I put on for the Women's Ministry. While they were doing a scavenger hunt in the dark, I hid in the Pastor's old shower, knowing they had to come there. When they pulled back the curtain….RAAAAAAARRRRRHHHHH! She went home and changed and came back. Priceless! The second time we went rolling/tp-ing houses and I turned the corner and scared her. I laughed then, but I get it now. I can't jump on a trampoline without wetting myself. Having babies does stuff to yah. Anywho…
QUESTIONS:
Would you rather go for a run or a walk?
Walk. I think better and day-dream better. When I'm running, I'm just focused on surviving.
What is your favorite movie?
I LOVE movies, so that's a tough one. Right now, Lindsay Harrel and Melissa Tagg are screaming, JAWS! She loves JAWS! But that's not my favorite. I love too many to have a favorite, but I'll tell you I've seen Underworld: Rise of the Lichens at least 50 times! LOL…And I've seen CLUE 50 X 50 times. I just don't know!
Do you have a pet?
Unfortunately. Let's leave it at that.
What book in the Bible has moved you the most?
Song of Solomon hands down. HANDS. DOWN. Changed my life with Jesus. In a way that moves me to speak about it.
What is your favorite meal?
All my friends are screaming, "Sandwiches and soup!" They'd be right. I love a hot Turkey club on wheat and a bowl of veggie soup…or potato. LOVE.
If you could go back in time to live, what period would you choose and why?
Well, I'm not good with dates, so it's hard for me to say a year because even when I'm reading historicals, sometimes I have to flip to the front again to remember what era I'm in. And I can't tell you any of those years after the book is done. I remember periods by Cowboys and Indians, during slavery, during the war with Germany…or right after, when they wore flapper dresses, victorian–but I'm not sure how long that era lasted and it doesn't matter I won't remember if you tell me, Little House times, Dowton Abbey and Gosford Park times, and Biblical times.
I'd like to live during Dowton Abbey times but only if I got live upstairs! LOL I didn't say Biblical because I'd only get to experience Jesus when He rolled into town. Now I get Him all the time. (Before death that is–after death…well it's too hot and hard and who cares)
Do you enjoy watching sports? If so whats your favorite?
Ok this has zip to do with sports but DH just asked me if I was going to eat before the circus and I said, "No, my stomach hurts. I don't know why."
He grinned. "If you're eating a lot of salad now, like you say you are, it's a shock to the system."
"Then I'm appalled." I thought that was funny. I hate sports. I write while my hubby glues himself to football and baseball. Works for us.
Country or City Girl?
I like the country. It's gorgeous but the truth is, it's overrun with critters and mice and I'd prefer those things to stay outside my house and pantry. But not the city like New York, because crowds and rushing brings out my pre-saved self. It's ugly. Real ugly.
Suburbs.
What kind of music do you enjoy the most?
I love all sorts of music, but I tend to gravitate towards haunting contemporary music with an acoustic and piano in the background (it's the Jesse Patch genre), or usually the last song of every Vampire Diaries because I download them all on iTunes! Great for imagining scenes.
Beach or Mountain Vacation?
Mountains are pretty but once you're up them, what's there to do but get altitude sickness, see some wildlife, and come back down? Beach.
What author has influenced you the most in your christian walk and why?
Beth Moore because her Bible studies are amazing. When I want deep intimacy, I read Spurgeon. I'm a huge fan of Bob Roe but he only wrote 2 studies before he died. When I found out he was in heaven, I cried. I'm selfish like that. And I love Tozer and R.C. Sproul. That's more than one, but it is what it is. Oh wait! Jerry Bridges. Not the actor, that's Jeff.


My 11 Questions:
1. Chocolate or Vanilla and why?
2. Have you ever shoplifted? Ever thought about it?
3. Colored polish or French manicure?
4. Where's the last place on earth you'd want to visit and why?
5. What's your least favorite food?
6. How many licks do you think it really does take to get to the center of a Tootsie Roll Pop?
7. Hotels or camping?
8. Which celebrity that is alive (there is no Jesus loop-hole here, people) would you like to meet and why?
9. Do you have a smart phone? Can you live without it? Be honest…okay you can. Would you want to? Be honest.
10. If you could be any animal which one would you be and why?
11. Home cooked or 5 star meal?
I'm tagging EVERYONE, mostly because I want to read all your answers! 🙂 If you don't blog, do this in a facebook note or post. Or email me. LOL
Hap, Hap, Happy Friday! If you can't play the game, answer one or more of the questions in the comments!