Monday was my silly–not too serious–writer post but today is my devotional post. And I'm serious. 🙂
I read a post back in December by Beth Vogt at My Book Therapy Ponderers blog. You can read it here. She said, "consider this invitation: Don't make any New Year's resolutions this year. Instead, pick a word. Just one word. And then focus on embracing that word, living that word, for the next 365 days starting January 1, 2012."
Something about her post struck a major chord in me. I felt like God wanted me to do this. But what was the word? I pondered on it and prayed about it for weeks. I never seemed to get it, but I knew I would and I knew it wouldn't be too late.
One morning, in late December–right before I was completely awake– the Lord spoke my word to me.
Strength.
I've had some issues with my trapezus muscles. And I went from running a 5K to barely being able to jog one mile, simply because I haven't stayed consistent. Obviously, my mind went straight to physical strength, but then as I thought…emotional strength, continued strength in my relationship with God…but that wasn't exactly what He was saying.
On December 22nd, 2011, I got up and read my small Word for Today devotional. I had no real direction that morning. I flipped open my Bible and glanced down (this happens occasionally) and my eyes met Psalm 84:5-7.
"Blessed is the man whose strength is in You, whose heart is set on pilgrimage. As they pass through the Valley of Baca they make it a spring; The rain also covers it with pools. They go from strength to strength; Each one appears before God in Zion."
The Lord whispered to me, "These are your life verses for 2012. Study it. I'm not simply talking about exercise, but you're not getting out of that."
Poo.
I pulled up my study tools and realized there's much more to what God wants from me than what I thought on my own.
In the KJV, the verse is: "Blessed is the man whose strength is in thee, in whose heart are the ways of them."
The Hebrew word for strength in verse 5 is, "oz" and it means, "might, strength–material or physical, personal, social, or political." Political also means influence.
"Whose heart is in thee" in Hebrew is "lebab" and this phrase means:
1. In the midst of things
2. heart (of man)
3. soul
4. mind, knowledge, thinking, reflection, memory
5. resolution, determination (of will)
6. conscience
7. moral character
8. seat of appetites, emotions, passions
9. seat of courage
Strength in all of these areas.
"Are the ways of them" in Hebrew is, "mecilalah" and it means, "highway, raised way, public road." Pilgrimage is the word in NKJV.
A journey…a road to travel…one people will see
Verse 6 says, "As they pass through the Valley of Baca, they make it a spring." Baca means weeping.
The pilgrimage will be difficult; it'll involve weeping (as least God is honest up front) but in those times, if my heart is with Him, those difficult times of weeping, can become times of refreshing…springs…pools…
V. 7 "they go from strength to strength." This word isn't the same Hebrew word as in verse 5. It's "Chayil" and it means, "ability, efficiency, wealth, army."
This road, this journey will take me from strength to strength, it will give me the ability to perform Kingdom tasks, not just writing for Him, but in all things He asks. I will be efficient, and my soul will become prosperous…I will be a soldier…
I won't lie and say I'm not afraid.
Strength is my weakness.
But I serve a mighty God, who loves me.
In fact, so much that a couple of days after this, I said to Him on the way to work, "Lord, I need a new Bible Study. I'm not writing one and when I'm not, I need one!" I planned on hitting Lifeway after the holidays. That night, my good friend, my godly friend and Bible teacher, Donna Pyle sent me a message. "I need your address, I'm sending you my new Bible study w/ DVDS!"
Thank you, God! When I got it in the mail a few days ago, I read the title.
"YOUR STRONG SUIT"
Get out! Nope, that's the kind of God we serve! Donna had no idea about my ONE WORD! Visit her site (blog) and by all means, order her Bible Study! I know God has plans to speak to me through this study.
Let God give you a word. We'll work on them together.
I'm writing this today as an encouragement to you. God has plans for you this year. He wants to develop you in every area of that one word, just like He wants to develop me in this area. And I'm writing it to keep an online journal of this journey. I'm sharing it. Publicly.
This year, each Wednesday, I'll be doing a devotion based on something God has spoken to me about strength. Join with me. Keep me accountable! And share with me what you're learning and how you're growing.
A special thanks to Beth Vogt for sharing her post about one words.
May God bless you for it, Beth.
Also another special thanks to Melanie Moore for giving me my Strength blog button for FREE! Check it out at the sidebar! Her one word this year is giving, and she's begun by offering customized ONE WORD blog buttons. How sweet is she? Thanks, Melanie!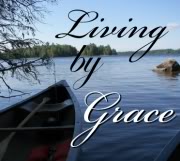 I'm hosting at Living By Grace today. Come over and chat, encourage someone, be lifted up!
What about you? Do you have a goal, one word, an area you plan to grow in this new year? Care to share?