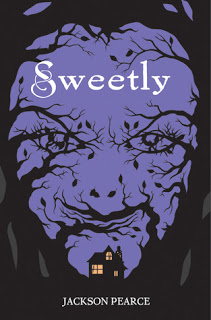 Tell me that's not a fantastic cover! Sweetly is a companion book to Sisters Red, both mainstream Young Adult novels by the sickly talented Jackson Pearce.


My daughter is a hard sale when it comes to books.
One day at the library, she settled on Sisters Red. A paranormal book about two sisters who hunt Fenris–werewolves. And not the good kind that protect young girls, but lure them with their hot looks and devour them.
After hours of searching the library, my daughter couldn't put this one down. Unlike me, who will give an author a chance through about 100 pages, Bailey won't. You get one shot. One page. Sometimes, literally, one line. Period. I've tried to encourage her to keep reading, because it might get better, but that's not her style.
She's now read Sisters Red, 3 times! I haven't had the chance to, because Bailey is the kind of reader all of us writers want! She told all her friends and they checked the book out. One downloaded it on her kindle. For her birthday, she asked for Sisters Red and the companion, Sweetly. So that was part of her gift. She's loaned out Sisters Red to her piano teacher!
Word of mouth works best!
Jackson Pearce was a stumbling accident at the library. She's now a household name around here. And if Bailey has her way, the region will know about Jackson Pearce. There won't be a book written by her that Bailey won't jump on the chance to not just read, but to own!
I read Sweetly. I started at 7:00 p.m. and at 11 p.m., I knew if I didn't put it down I'd be exhausted the next day. But I thought about it while I was working. At noon, I came home, made a sandwich and went straight to my room to finish it.
5 stars.
What does a 5 star rating mean in my reader world?
From page 1 I was sucked in. The very first line! The characters were fun, unique, interesting, hilarious. The dialogue was real, witty, and flavorful. The emotions were deep. I didn't not skim pages. I couldn't or I'd miss something and frankly, I wanted to hang on every word.
The romance was well written, the theme? While not a Christian book (there are a few curse words, one scene that alludes to sex (not graphic at all), and a sprinkle of taking the Lord's name in vain, the theme was about making changes, overcoming fear and not staying in the same place forever. A positive theme. This may not be something you want your young teen to read because of those things. I used my parental discretion; some of you may have just thought, "Oh, so she doesn't have any." I do. Some…
The mystery! As a voracious reader, I can pretty much guess what's going to happen in most books. I could not figure out what was going on to save my life in a good, good way! Is she a witch or not? Is someone I care about going to die? Why are they after XXX? I did figure out 2 small things, but the big twists, I never saw coming, therefore I could. Not. Stop. Reading.
Also the fact that chocolate was involved in the story line added numerous points! 🙂
And when I put the book aside, I knew I'd become a faithful reader–like my daughter. I thought about the book and marveled over the genius. And when the piano teacher brings back Sisters Red, I'll suck that one down too.
In a time when fairy tales are popular i.e..Grimm & Once Upon a Time, Sweetly is a timely book. A modern day Hansel & Gretel.
Here's a peek!
As a child, Gretchen's twin sister was taken by a witch in the woods. Ever since, Gretchen and her brother, Ansel, have felt the long branches of the witch's forest threatening to make them disappear, too.
Years later, when their stepmother casts Gretchen and Ansel out, they find themselves in sleepy Live Oak, South Carolina. They're invited to stay with Sophia Kelly, a beautiful candy maker who molds sugary magic: coveted treats that create confidence, bravery, and passion.
Life seems idyllic and Gretchen and Ansel gradually forget their haunted past– until Gretchen meets handsome local outcast Samuel. He tells her the witch isn't gone– it's lurking in the forest, preying on girls every year after Live Oak's infamous chocolate festival, and looking to make Gretchen its next victim. Gretchen is determined to stop running and start fighting back. Yet the further she investigates the mystery of what the witch is and how it chooses its victims, the more she wonders who the real monster is.
Gretchen is certain of only one thing: a monster is coming, and it will never go away hungry.
What about you? Do you give an author a chance to woo you, or do you expect to be wooed on page 1? Why or why not?