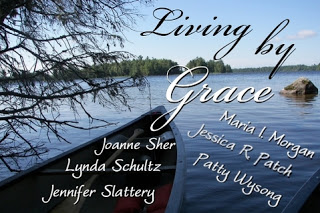 I hope everyone had a great holiday! Cookouts, staying in jammies longer, poolside. Fall is on the way. No more white shoes or pants. Black's more slimming anyway.
So let me ask you a question.
What does living by grace mean to you?
For me, it means walking each day knowing I am weak, but He is strong. I get tired, He never does. I stumble, He holds me up. I make mistakes, He's perfect.
So many things pour into me every day. Responsibilities of being a wife, mother, employee, a writer, a woman (if you're a woman you know what I'm saying). I wear many hats. I love each one. I love each responsibility, but they can all wear me out.
I need my thirsty soul, quenched. I need saturated with His love, with the washing of the water of His Word. I can't be good at any of the things above, if I don't first fill myself up with Him.
Can anyone relate?
And because I'm a woman, I like to share. Women love to share, don't they? My husband is amazed at some of the things I'm willing to divulge to my girlfriends. I love it when a bunch of us get together and talk about life and most importantly the foundation of life. Jesus Christ.
It renews me, encourages me, revs me up, and gives me hope. We bond through friendship and faith. We care for each other, pray for each other, laugh together. It's a wonderful experience, especially when coffee and chocolate are involved!
"…A cord of three strands is not quickly broken." Ecclesiastes 4:12
Doesn't this sense of belonging, renewal, and friendship sound wonderful? Wish you could have it on a daily basis?
You can.
I'm honored to be partnering with some incredible women of faith who want to live by grace, together. We want a sense of community and camaraderie with other women. On September 12th, we'll be launching a devotional facebook community. Living By Grace. We want to invite you to come by and let your souls be quenched, your minds and hearts challenged. Each day an amazing woman will bring the word through a devotional and feel free to mingle, chat, ask questions, and just have a good time.
We're building bonds of sisterhood through faith and facebook! Come and join us.
"Like" our page by clicking the button on my sidebar and grab our button for your blog if you'd like!
I'm honored to be working with such talented writers. They all have wonderful personal blogs. You can find them by clicking on their names below.