In 2004, I wrote my first novel. I wrote it under a pen name and I didn't write it for the glory of God.


Everybody falls sometimes, Gotta find the strength to rise, out of the ashes and make a new beginning.
In August of 2008, I had a conversation with God and I started writing again. I finished my first novel, under my name, for the glory of God, in December 2008. I wasn't sure what to do with it. I had never read a blog or a craft book. I read it for typos, but that's about all.
So, I decided to put it on Christian Manuscript submissions. While it sat there, I wrote another novel, and another and then I put a new one on the same site. During that six months, I wrote a few more.
In March of 2010, I wrote a new novel and submitted it in the Operation First Novel contest. I didn't semi-final.


I made a decision to fly to Denver for the Writing for the Soul conference anyway. My husband is my rock. (Yeah, Jesus is, but you know what I mean) We were going to go together. I'm terrified of new places and going into unfamiliar territory alone. Not just apprehensive, terrified–but hubby was going.
Until he wasn't. "Jess, I can't go. I'm swamped at work (not just busy but lots of stuff)." His face expressed concern. He knows I depend on him to get me places.
Anyone can feel the ache, You think it's more than you can take. But you're stronger, stronger than you know.


"Okay, I can do this."
He smiled and put his hand on my knee. "I'll take care of it."
A few days later, he booked a direct flight so I wouldn't have to worry about layovers and he made sure I knew about the shuttle counter and how to get a ticket.
In February 2011, I got on a plane in Memphis, alone. Except, I wasn't.
"You're crossing your Jordan, Jess. Just you and Me," God whispered.


I cried on the plane. I was flying towards my promise. I had taken the step of faith. I looked out the windows. I was doing this. Me! Little ole' me. And Big Ole' God.
Don't you give up now, the sun will soon be shining, You gotta face the clouds, to find the silver lining.


I landed in Denver airport and met up with one of my Critique partners I'd made online during the few months before the contest. Where was she before I entered?
I had spent a lot of time in prayer. I read the blogs and articles about how hard it was to break out into the publishing world. But I had a God-given dream. I had to decide to persevere, when my heart failed, when my mind said NO WAY, when I thought about who I was–a nobody from a small town, when I cried alone at the thought of pitching to an agent or editor, when I needed the money to get to the conference. When I looked at all the reasons why this was ridiculous.
I kept writing. I kept believing. I had to.
It doesn't matter what you've heard, impossible is not a word. It's just a reason, for someone not to try. Everybody's scared to death, when they decide to take that step…out on the water, it'll be alright.


I didn't know what to expect. But I'd prayed and believed as I searched the available agents and editors attending the conference that God would guide me to the right ones. Maybe nothing would happen at that moment, but for the future. "God, who is right for me? I don't want to pitch to everyone. I don't want to scramble and rush. I want the right ones. For me. That's my prayer. Have Your way." TIP: Be prayerful about pitching and querying.
That night we had the chance to sign up for 3 appointments, a mentor appt, and a coaching appt. "Lord, I believe you've led me to these 3 people. I'm praying I get a slot."
I signed up for mentoring, then I signed up for the coaching and then I got all 3 of my prayerful picks. One publisher, one editor, one agent.
My mentoring came first. Praise God! She smiled, took my writing, asked me to give my pitch, then looked at what I wrote. "This is good writing. I think your story starts in Chapter 2."
"Should I not pitch?"
"No! Pitch it. It's good. Let an editor decide that. You're going to be great. Your pitch is perfect. Can I pray with you?"
Later that day, I sat in on a 15 minute coaching session. I slouch. I know. It was a great coaching session. Talk slower, relax. You'll be fine. Sounds like a neat story.
I pitched to the publisher first. She asked me what my story was about and had I written any other ones. I told her. "I like the story, but we do more missional novels. I'm interested in what others say, if you get a chance tonight, come find me and let me know how it went. Can I pray for you?" Tip: Editors, Publishers, and Agents are people. Relax. Easier said than done, I know. But they really do want the best for you!
Life is so much more, than what your eyes are seeing, you will find your way, if you keep believing.


I pitched to an editor next. I was intimidated, but she smiled and asked me some questions. Hard ones. She asked me, (TIP:) "Why did you write the book?" "Why do you think this book should be published?" I had answers. My first funny one was, "I'm pitching this one because it isn't my first book." We laughed. Then I told her the real reason why. She asked for a partial.
And then, it was time to pitch to THE AGENT. The ONE. I walked in and shook her hand and introduced myself. "I know your name. Do you follow our blog?" TIP: Comment on agent blogs and be sincere.
"Yes, I do." And then my nerves got me, but I gave her my elevator pitch.
"You know I'm going to need more than that now." She grinned. TIP: Be able to explain your book further than one hook-pitch clearly and quickly.
She asked me a few questions, her eyebrows raised. I totally thought I was tanking it. I could answer her questions at least. She nodded. "It sounds like something I'd be interested in, but I won't know unless I read it. Send me a full."
WHAT?
I left, went straight to my hotel room, crumpled into a heap and bawled. A partial and a full. It was hope. It wasn't a contract, but it was hope. Slim. But hope.
I've seen dreams that moves the mountains, hope that doesn't ever end even when the sky is falling. I've seen miracles just happen, silent prayers get answered, broken hearts become brand new…


that's what faith can do…overcome the odds, when you don't have a chance, when the world says you can't


It'll tell you that you can!


I sent the requested material March of 2011. The second week of June I received an email from the agent. She enjoyed the story and felt it was almost ready for representation. She made a list of a few areas that needed revised.
1. Too many POVs, I cut out 3 because she was right, they were there for convenience.
2. Too many switches in POVs per scene. "Could you keep it 2 POVs per chapter?"
3. Typos. "Could you polish it up a bit?"
YES! I'll do all of it. I printed out the ms and prayed. Please help me to do this, Lord. After I tackled the big issues, I went through and polished it. Then I sent it to my critique partners. They all caught something! They were life lines. TIP: Get critique partners you trust and polish your ms before sending.
On June 8th, 2011, I sent my revisions. August came and I read a blog by another agent saying after a couple months it's ok to send a nudge and see if the agent has received the material. So I did. I sent an email asking if she had received what I sent.
I got a reply. Yes, she had and she was half-way through it, with an apology for taking so long. How sweet was she? Okay, that's better than I'm half-way through and not reading any more. I can wait. I can do this.
On September 9th, I received an email with a date to discuss representation! That call came this past Wednesday. I had a great conversation, we're on the same page, and we're excited about what's to come!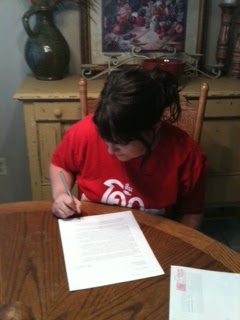 Me signing my contract!
I am honored to be represented by Rachel Kent of Books & Such Literary Agency!


If you're writing or whatever your dream is– keep believing, keep dreaming, keep moving forward. Have faith.


Even if you fall sometimes, you will have the strength to rise.